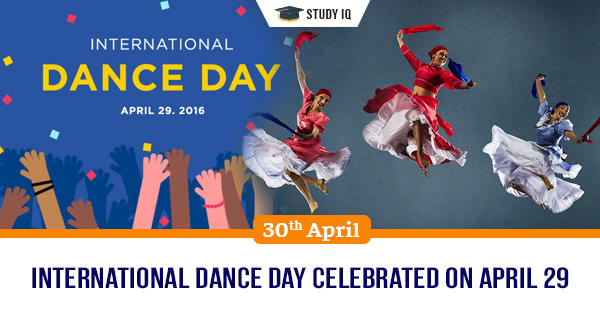 International Dance Day celebrated on April 29
Date: 30 April 2019
Tags: Days & Dates
The International Dance Day is celebrated every year on April 29 across the world to encourage participation and education in dance. It is global day celebrated by International Theatre Institute (ITI) which organizes events and festivals to celebrate dance,
International Dance Day
This day was instituted by Dance Committee of International Theatre Institute (ITI), '29 April' was chosen as date to celebrated birthday anniversary of French dancer, creator of modern ballet and great reformer of dance Jean-Georges Noverre (born on 29 April 1727 and died 19 October1810). Observance of this day is aimed at increasing awareness about importance of dance among general public. It also seeks to persuade governments across the world to include dance in education system. On this day, every year a famous dance personality circulates message throughout world about importance of dance and this day.
International Theatre Institute (ITI)
It is the world's largest performing arts organization. It works in the areas of arts education, international exchange and collaboration, and youth training. It was founded in 1948 by theatre and dance experts and UNESCO. It is headquartered in Paris, France. It is dedicated to performing arts and advances UNESCO's goals of mutual understanding and peace and advocates for protection and promotion of cultural expressions, regardless of age, gender, creed or ethnicity.