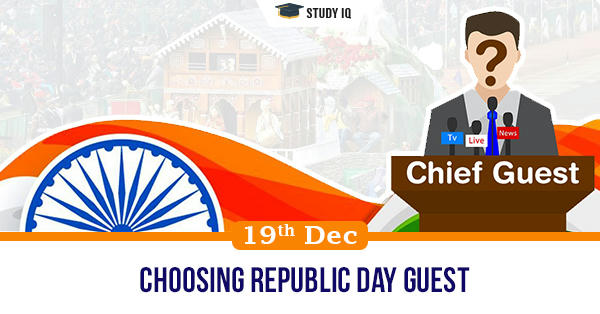 Choosing Republic Day guest
Date: 19 December 2020
Tags: Days & Dates
Issue
Prime Minister Boris Johnson of the United Kingdom will be the Chief Guest at the forthcoming Republic Day parade.
Background
Johnson will be the sixth leader from the UK to be Chief Guest at the Republic Day celebrations. The last British leader to be Chief Guest was Prime Minister John Major in 1993.
Details
Significance of honour
While the visit of the Chief Guest at the Republic Day parade is similar to a State visit by any foreign high dignitary, it is the highest honour that India accords to a guest in protocol terms.

The Chief Guest is given the ceremonial guard of honour at Rashtrapati Bhavan, he attends the reception in the evening hosted by the President of India, he lays a wreath at Rajghat, there is a banquet in his honour, a lunch hosted by the Prime Minister, and calls by the Vice-President and the External Affairs Minister.

It portrays the Chief Guest as participating in India's pride and happiness, and reflects the friendship between the two peoples represented by the President of India and the Chief Guest.
Choosing the guest
The government extends its invitation to a Head of State or Government after careful consideration. This process commences almost six months ahead of Republic Day.

The Ministry of External Affairs (MEA) considers a number of issues, the most important of which is the nature of India's relationship with the country concerned.

Other factors include political, economic, and commercial relations, the neighbourhood, military cooperation, prominence in regional groupings, or past association in the Non Aligned Movement, common struggle against apartheid, and the domination of the developed countries.

The MEA seeks the Prime Minister's approval, after which the clearance of Rashtrapati Bhavan is sought. Thereafter, India's ambassadors in the concerned countries try to ascertain discreetly the potential Chief Guests' programme and availability for Republic Day.

The Protocol Chief explains to his counterpart from the visitor's side the detailed programme which, for the Republic Day ceremonies, has to be followed minute-by-minute with military precision.

Once everything has been sorted out, India sends a formal invitation to the concerned guest for attending the Republic Day parade as the chief-guest, which is accepted immediately.