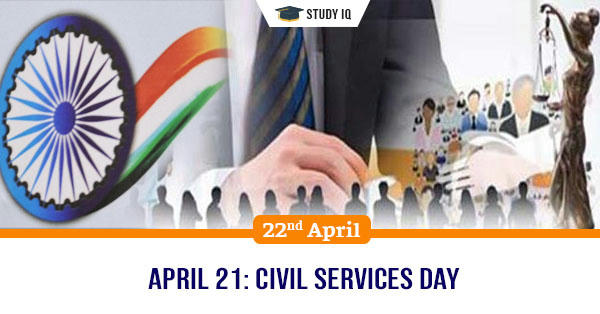 April 21: Civil Services day
Date: 22 April 2019
Tags: Days & Dates
The Civil Services day is celebrated every year in India on April 21. On this occasion, civil servants to rededicate themselves to the cause of citizen and renew their commitments to public service and excellence in work. On this day, Department of Administrative Reforms and Public Grievances (DARPG), Ministry of Personnel, Public Grievances and Pensions organizes main function.
Note
This year Civil Services Day was not observed on 21st April due to ongoing Lok Sabha elections. DARPG has notified that this day will be celebrated once new government takes over or may be clubbed this year's celebrations and awards ceremony with the next year's programme.
Significance of this day
This day commemorate address of first Home Minister of Independent India, Sardar Vallabhbhai Patel to probationers of Administrative Services Officers on 21 April 1947 at Metcalf House, Delhi, where he had referred to civil servants as the 'steel frame of India'.
Prime Minister's Awards for Excellence in Public Administration
As part of Civil Servant Day, Prime Minister's Awards for Excellence in Public Administration are presented to Districts/Implementing Units for implementation of Priority programme and innovation categories. These awards were instituted in 2006 and are given each year to acknowledge, recognise and reward extraordinary and innovative work done by officers of Central/State Governments towards welfare of common citizen.