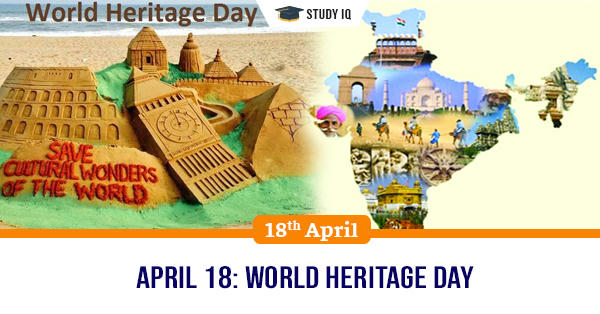 April 18: World Heritage Day
Date: 18 April 2019
Tags: Days & Dates
The World Heritage Day is observed every year on April 18. The day is also known as International Day for Monuments and Sites. This day is celebrated to raise awareness about diversity of cultural heritage, monuments, its relevance, and show how vulnerable they are and highlights needs and benefits of their conservation. The theme for year 2019 is Rural Landscapes. It is linked to theme of 2019 International Council on Monuments and Sites (ICOMOS) Scientific Symposium on Rural heritage which will take place in October 2019 in Marrakesh, Morocco.
Background
World Heritage Day was announced by ICOMOS in 1982. It was officially approved by General Assembly of United Nations Educational, Scientific and Cultural Organization (UNESCO) in 1983, with aim of enhancing awareness about importance of cultural heritage, monuments and to conserve them. There are total 37 (1 mixed, 7 Natural and 29 Cultural) UNESCO World Heritage Sites in India having special cultural or physical significance.
International Council on Monuments and Sites (ICOMOS)
It is global monument conservation body dedicated to promoting application of theory, methodology and scientific techniques for conservation of architectural and archaeological heritage across the world. It also acts as advisory body to UNESCO for cultural heritage, in particular for implementation of World Heritage Convention. It was established on principles set in Venice Charter, also known as 1964 International Charter on Conservation and Restoration of Monuments and Sites. It is headquartered in Paris, France.