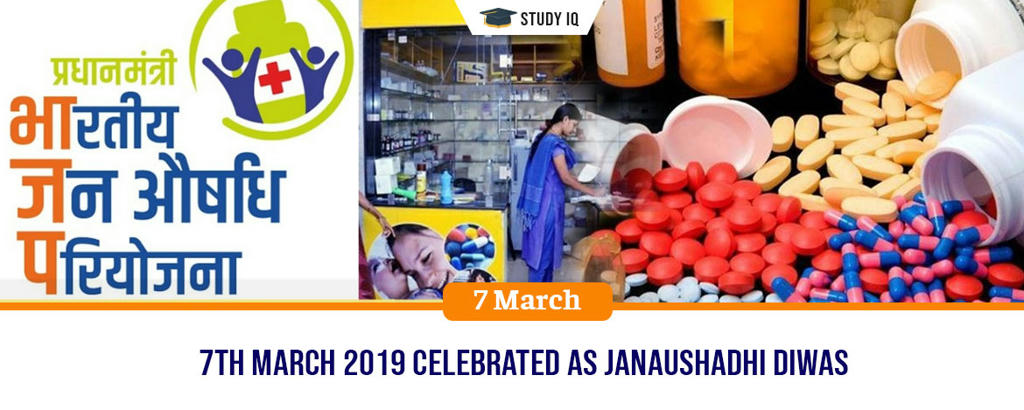 7th March 2019 celebrated as Janaushadhi Diwas
Date: 07 March 2019
Tags: Days & Dates
Union Ministry of Chemicals and Fertilizers has decided to celebrate 7th March 2019 as Janaushadhi Diwas across the country. Observance of this day aims at providing further impetus and create awareness about use of generic medicines provided under Pradhan Mantri Bhartiya Janaushadhi Pariyojana (PMBJP). It also seeks to highlight initiatives undertaken by Government in direction of making quality healthcare affordable for all like Ayushman Bharat, Pradhan Mantri Bhartiya Janaushadhi Pariyojana (PMBJP) etc.
Pradhan Mantri Bhartiya Janaushadhi Pariyojana
It aims to make available high-quality medicines to all at affordable prices, especially to poor and underprivileged in order to reduce out of pocket expenses in healthcare.

It makes quality drugs available at affordable prices through special kendras known as Jan Aushadhi Medical store. Government aims to have atleast one such Kendra in each block of the country by 2020.

These are dedicated stores for selling generic medicines, which are available at lesser prices but are equivalent in quality and efficacy as expensive branded drugs.

Objectives:

(i) Promote greater awareness about cost effective genric drugs and their prescription. (ii) Make available unbranded quality generic medicines at affordable prices through public-private partnership (PPP) (iii) Encourage doctors, more specifically in government hospital to prescribe generic medicines. (iv) Enable substantial savings in health care, especially in case of poor patients and those suffering from chronic ailments requiring long periods of drug use.

Implementation:

It is implanted by Department of Pharmaceuticals (DoP), Union Ministry of Fertilizers and Chemicals.

DoP has established

Bureau of Pharma Public Sector Undertakings of India (BPPI) with support of all CPSUs for co-coordinating procurement, supply and marketing of generic drugs under this scheme.
Performance of Scheme
Over 5050 Janaushadhi stores functional across 652 districts in the country.

Around 10-15 lakh people have benefited from generic medicines per day.

Market share of generic medicines has grown over three fold from 2% to 7% in last 3 years.

It has played big role in bringing down the out of pocket expenditure of patients suffering from life threatening diseases in India.

It has led to total savings of approximately Rs.1000 crores for common citizens, as these medicines are cheaper by 50% to 90% of average market price.