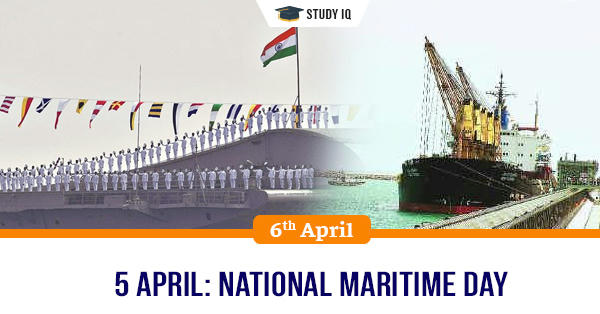 5 April: National Maritime Day
Date: 06 April 2019
Tags: Days & Dates
The National Maritime Day (NMD) is observed every year on 5 April to commemorate maiden voyage of the first Indian owned ship "SS Loyalty" on this day 1919 from Mumbai to UK. This year it was 56th edition of NMD. Its theme was "Indian Ocean-An Ocean of opportunity".
SS Loyalty
It was the first ship of Scindia Steam Navigation Company Ltd. It had sailed from Bombay to London on 5th April 1919. It was historical moment in Indian shipping history as sea routes during that time were controlled by British. It had marked red letter day in maritime history of modern India as it was known for its seafaring abilities since ancient days.
Background
The NMD is being observed annually since 1964. Its purpose is to illustrate awareness in supporting intercontinental commerce and global economy as the most well-organized, safe and sound, environmentally responsive approach of transporting goods from one corner to another corner of the world.
Varuna Award
It is highest award to recognize and persons for their sustained and outstanding contribution to maritime sector. It was instituted by Government (Ministry of Shipping) in 2018. It consist of statue of Lord Varuna and Citation.
Note: World Maritime Day (WMD) is observed every year on September 29 to highlight the importance of shipping safety, maritime security and the marine environment.