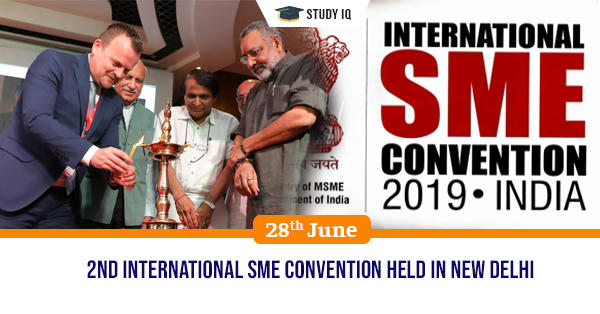 2nd International SME Convention held in New Delhi
Date: 28 June 2019
Tags: Days & Dates
The second edition of International SME Convention was held in New Delhi. It was organized by Union Ministry of Micro Small and Medium Enterprises (MSME) on the occasion of International MSME Day. The theme for this edition of convention was "Indian MSMEs, Global Aspirations".
Government target for MSMEs
During the convention, Union Minister for MSME said that the government has set the following targets of raising the contribution of MSME sector to the country's GDP to 50 % from the present 29 %and ensure that MSME sector gave employment to at least 15 Crore people against the 11.1 Crore at present.
About International SME Convention
The first editon of International SME Convention was held in April 2018. It is was organsed by Ministry of MSME in association with India SME Forum. United Nations Industrial Development Organization (UNIDO) and United Nations Development Programme (UNDP) are the Institutional Partners for this event. Objectives of International SME Convention are to boost international competitiveness of Indian MSMEs by making them aware of global market demand, ease of export financing for exports and developing strategies to penetrate new markets.