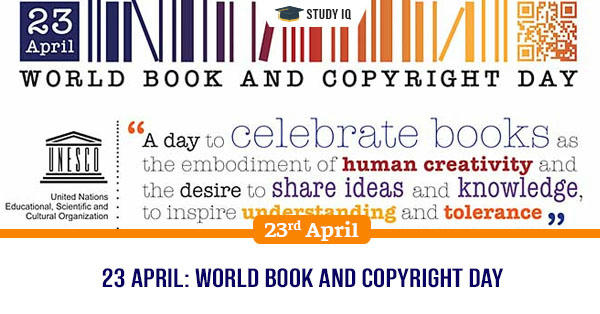 23 April: World Book and Copyright Day
Date: 23 April 2019
Tags: Days & Dates
The World Book and Copyright Day is being observed every year across the world on 23 April to promote reading, publishing and copyright and to celebrate authors, books and illustrators. Its observance aims to encourage everyone and in particular young people, to discover pleasure of reading. It also seeks that youth should gain renewed respect for irreplaceable contributions of those, who have furthered social and cultural progress of humanity.
This year it is 24th edition of World Book Day and its celebration is centred around celebrating literature and reading with particular focus on enhancing and protecting indigenous languages. Its focus is fully in line with celebration of International Year of the Indigenous Languages.
2019 World Book Capital: Sharjah, United Arab Emirates.
Background
World Book and Copyright Day (also known as World Book Day or International Day of the Book) was instituted by United Nations Educational, Scientific and Cultural Organization (UNESCO). It is on this date in 1616 William Shakespeare (greatest English writer and world's pre-eminent dramatist), Miguel de Cervantes (greatest Spanish writer) and Inca Garcilaso de la Vega all have died. It was first celebrated on 23 April 1995. Every year, UNESCO selects World Book Capital for one-year period, effective 23 April each year.