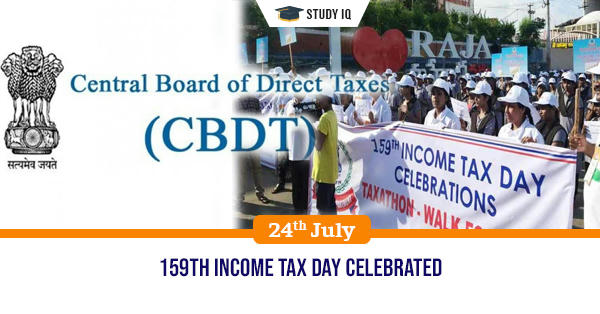 159th Income Tax Day celebrated
Date: 24 July 2019
Tags: Days & Dates
The Central Board of Direct Taxes (CBDT) celebrated 159th Income Tax Day (Aaykar Diwas) on July 24, 2019. On this occasion, CBDT launched "Kardaata e-Sahyog Abhiyaan" to assist and support taxpayers and other stakeholders in enabling them to e-file their returns and discharge other tax related obligations.
Components of Kardaata e-Sahyog Abhiyaan: (i) Facilitation camps for e-filing (ii) Outreach programmes with taxpayers, and e-return preparers (iii) Video conferencing with stakeholders (iv) Training with hands-on experience of taxpayers/stakeholders (v) Hand-holding and enabling taxpayers on IT related matters and related changes in forms/laws/utilities etc.
Why 24th July is celebrated as Income Tax Day?
On this day in 1860, income tax was introduced for the first time in India by British civil servant Sir James Wilson to compensate for losses incurred by British regime during first war of independence against British Rule.