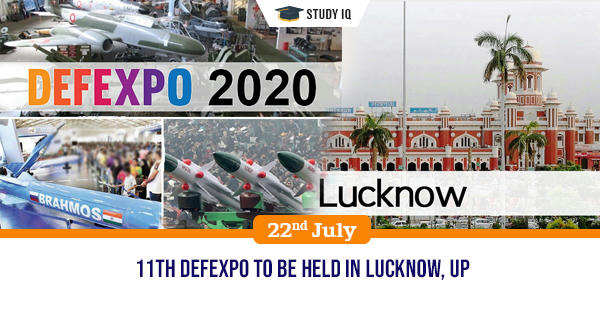 11th DefExpo to be held in Lucknow, UP
Date: 22 July 2019
Tags: Days & Dates
The 11th biennial edition of DefExpo India- 2020 is scheduled to be held in Uttar Pradesh's capital Lucknow. This will be for the first time UP will host this biennial defence expo. The previous 10th of the expo was held in Chennai in 2018.
About DefExpo India- 2020
Theme:

'India: The Emerging Defence Manufacturing Hub'.

Special focus:

'Digital Transformation of Defence'.

Features of DefExpo 2020:

This mega expo will showcase India`s Defence Manufacturing Prowess. It will also provide unique platform for Defence industry Original Equipment Manufacturers (OEMs), exhibitors and private industry to display their latest innovations and capabilities.

It will also highlight emergence of UP as attractive destination for investment in the defence sector.

It will provide opportunity for Indian defence industry to showcase its capabilities to the world and leverage its potential to export the defence equipment to different parts of the world.
Background
Uttar Pradesh has strong defence industrial infrastructure, including four units of Hindustan Aeronautics Ltd (HAL) at Lucknow, Kanpur, Korwa and Naini (Prayagraj), 9 ordnance factory units, including Kanpur, Shahjahanpur, Korwa, Firozabad and one unit of Bharat Electronics Limited (BEL) at Ghaziabad. Uttar Pradesh is also set to get one of two proposed Defence Industrial Corridors (DICs) of the country. The corridor will encourage Defence Micro Small and Medium Enterprises (MSMEs) and play important role in promoting Defence Public Sector Undertakings (DPSUs).