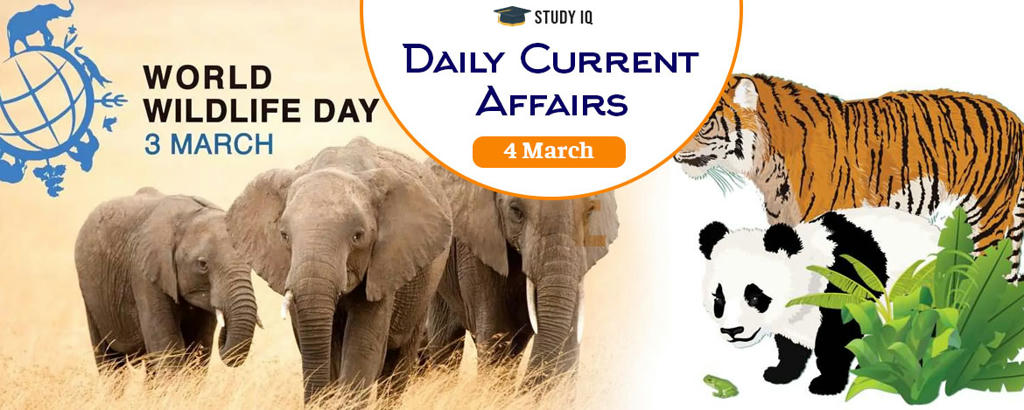 World Wildlife Day: 3 March
Date: 04 March 2019
Tags: Biodiversity, Conventions
World Wildlife Day (WWD) is observed every year across the world on 3rd March to celebrate and raise awareness about conservation of world's wild fauna and flora. It is celebrated to mark signing of landmark Convention on International Trade in Endangered Species of Wild Fauna and Flora (CITES) on 3rd March 1973.
2019 Theme is "Life Below Water: For people and planet". It is closely aligned with Goal 14 of the Sustainable Development Goals (SDG14) which aims to "conserve and sustainably use the oceans, seas and marine resources for sustainable development." The theme gives specific focus on conservation and sustainable use of marine wildlife.
Background
This day was officially designated by United Nations General Assembly (UNGA) at its 68th session on 20 December 2013. Observance of this day aims to create awareness and encourages people across the globe to protect endangered species. It also seeks to bring all stakeholders together to take urgent steps to fight wildlife crime which has wide-ranging environmental, economic and social impacts.
Convention on International Trade in Endangered Species of Wild Fauna and Flora (CITES)
It is international agreement to regulate worldwide commercial trade in wild animal and plant species.

Its main objective is to ensure that international trade does not threaten survival of species in wild.

It was drafted as result of a resolution adopted in 1963 at a meeting of members of International Union for Conservation of Nature (IUCN). It entered into force in July 1975.

It is administered through United Nations Environment Programme (UNEP). Its secretariat is located in Geneva, Switzerland.

It classifies plants and animals according to three categories (appendices I, II, III), based on degree of threat to these species.

Based on this classification, it restricts trade in items made from such plants and animals, such as food, clothing, medicine, and souvenirs.

It is legally binding on state parties to it, which are obliged to adopt their own domestic legislation to implement its goals.