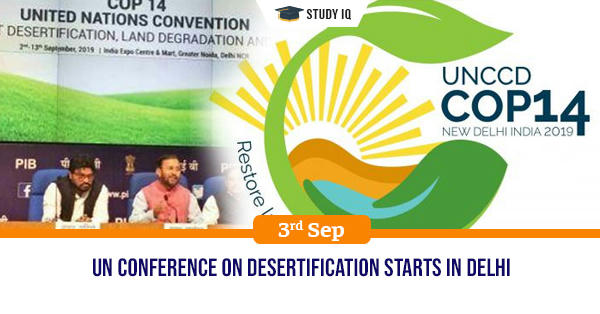 UN conference on desertification starts in Delhi
Date: 03 September 2019
Tags: Conventions
Issue
The 14th United Nations Conference of Parties (COP) to combat desertification kicked off in New Delhi on Monday with India taking over the presidency of the COP for two years.
Background
India and the world face a severe problem of land degradation, or soil becoming unfit for cultivation. About 29% or about 96.4 million hectares in India are considered degraded.
Details
The COP, which meets every two years, discusses ways and means forward to address global land degradation.

One in four hectares of arable land is considered unusable due to unsustainable land management. These have put nearly 3.2 billion people in the world at risk.
Desertification
Desertification is a type of land degradation in which a relatively dry area of land becomes a desert, typically losing its bodies of water as well as vegetation and wildlife.
UN conference to combat desertification
The United Nations Convention to Combat Desertification (UNCCD) is a Convention to combat desertification and mitigate the effects of drought through national action programs that incorporate long-term strategies supported by international cooperation and partnership arrangements.

The Convention originated from a direct recommendation of the Rio Conference's Agenda 21 and was adopted in Paris, France on 17 June 1994 and entered into force in December 1996.

It is the only internationally legally binding framework set up to address the problem of desertification. The Convention is based on the principles of participation, partnership and decentralization.