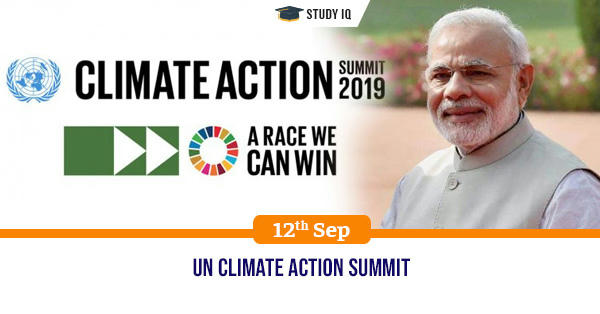 UN Climate Action Summit
Date: 12 September 2019
Tags: Conventions
Issue
Prime Minister Narendra Modi will be attending the UN Climate Action Summit 2019 on 23 September in New York. PM Modi will be joining other global leaders at the Summit in the backdrop of US withdrawal from the Paris climate deal.
Background
The UN Climate Action Summit is being held before the second general assembly of the International Solar Alliance (ISA) scheduled in New Delhi from 30 October to 2 November.
Details
Countries are planning to enhance their nationally determined contributions by 2020, in line with reducing greenhouse gas emissions by 45 per cent over the next decade, and to net zero emissions by 2050.

Method to reduce emissions includes ending subsidies for fossil fuels and high-emitting agriculture and shifting towards renewable energy, electric vehicles and climate-smart practice.

It means accelerating the closure of coal plants and halting the construction of new ones and replacing jobs with healthier alternatives so that the transformation is just, inclusive and profitable.
Challenges of climate change
India's monsoon region has been on decline in terms of the total rainfall received over the last 50 years. While the extreme rainfall events have become frequent and more variable, the severity and frequency of droughts has also increased.

The preliminary total estimate for meeting India's climate change actions between now and 2030 is $2.5 trillion.

This includes implementing new technologies and practices in cultivation, improve crop production, increase forest cover, watershed development programmes, flood management etc.