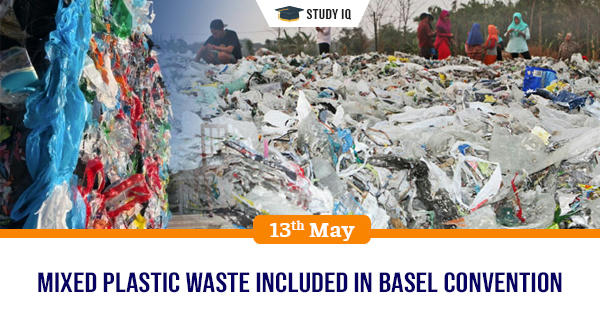 Mixed Plastic waste included in Basel Convention
Date: 13 May 2019
Tags: Conventions
Around 180 Countries have decided to include mixed plastic scrap to Basel Convention on the Control of Transboundary Movements of Hazardous Wastes and their Disposal. In this regard, they amended 1989 Basel Convention at meeting organized by United Nations Environment Programme (UNEP) in Geneva, Switzerland.
New amendment
It will help to regulate transboundary movement of plastic waste. It will empower developing countries to refuse plastic waste dumping.

It also included two toxic chemical groups— Dicofol and Perfluorooctanoic Acid plus related compounds under its ambit.

These compounds are widely used in wide variety of industrial and domestic applications including non-stick cookware and food processing equipment, as well as carpets, paper and paints.
Background
For far too long developed countries have been exporting their mixed toxic plastic wastes to developing Asian countries claiming that it will be recycled in receiving country and create numerous employment opportunities to people. Instead, much of this contaminated mixed waste is of non-recyclable nature, resulting in dumping or burning, or way into the ocean.
Basel convention on the Control of Transboundary Movements of Hazardous Wastes and their Disposal
It is legally binding international treaty aimed reducing movements of hazardous waste between nations, and specifically to prevent transfer of hazardous waste from developed to less developed countries (LDCs). It does not include radioactive waste under its ambit.
It was negotiated by the United Nations Environmental Program (UNEP)and was adopted in 1989 by Conference of Plenipotentiaries in Basel, Switzerland. It entered into force in 1992. 186 countries and European Union are parties to it.

It was adopted in response to public outcry following discovery in developing world of deposits of toxic wastes imported from abroad.

Its overarching objective is to protect human health and the environment against the adverse effects of hazardous wastes

Aims and Objectives:

(i) Reduce hazardous waste generation and promotion of environmentally sound management of hazardous wastes, wherever the place of disposal; (ii) Restrict transboundary movements of hazardous wastes except where it is perceived to be in accordance with principles of environmentally sound management and (iii) Provide regulatory system applying to cases where transboundary movements are permissible.