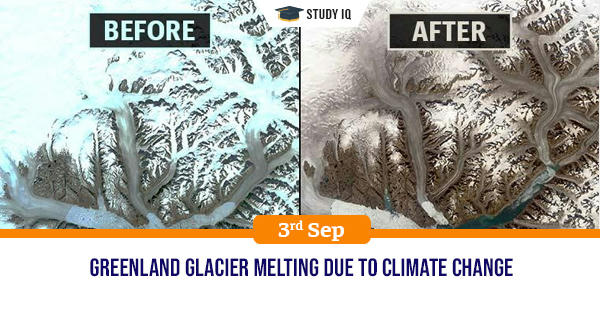 Greenland glacier melting due to climate change
Date: 03 September 2019
Tags: Conventions
Issue
NASA released a set of satellite images of Greenland glaciers capturing the transformation of the ice cover from 1972 to 2019.
Background
The Greenland ice sheet is a vast body of ice covering 1,710,000 square kilometres (660,000 sq mi), roughly 80% of the surface of Greenland. It is the second largest ice body in the world, after the Antarctic ice sheet.
Details
According to the National Snow and Ice Data Centre, around 90 per cent of the surface of Greenland's ice sheet melted at some point between July 30 and Aug 2, during which time an estimated 55 billion tons of ice melted into the ocean.

NASA satellite images taken from Landsat 8 satellite on August 12, 2019, show the glaciers appearing brownish grey in colour, confirming the retreat of ice fronts. The colour indicates the melted surface– a process that concentrates dust and rock particles and leads to a darker recrystallized ice sheet surface.

According to NASA, the Helheim Glacier, one of the largest and fastest flowing of its kind in Greenland, has retreated around 4.7 miles or 7.5 kilometres as visible in Landsat images taken at 50 years of interval.

Similarly, the Midgard Glacier has retreated around 10 miles or 16 kilometres, splitting into two branches farther up the fjord.
What does the Images Indicate?
The melting of Greenland's ice sheet is among one of the most visible signs of man-made climate change spurred by the burning of fossil fuels.

The melting has contributed to a rapid sea-level rise which puts the coastal areas around the world at risk.

Experts have warned that if the entire Greenland ice sheet melts, it could add 20 feet or more to global sea level.