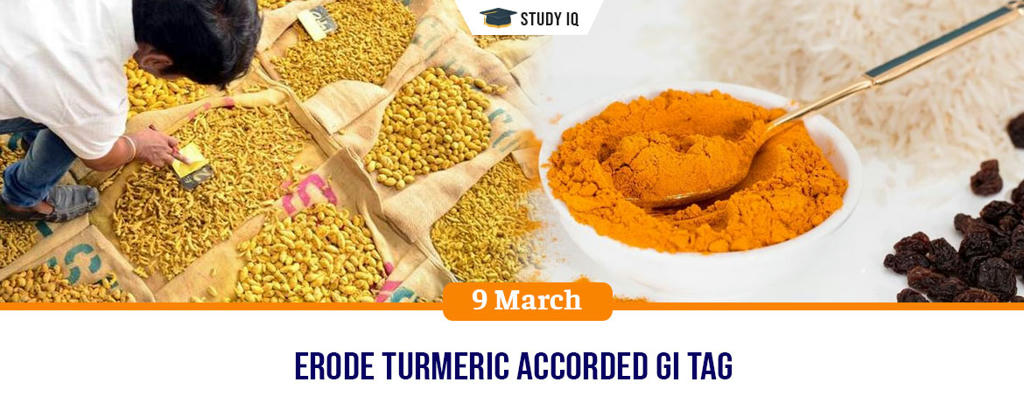 Erode turmeric accorded GI Tag
Date: 09 March 2019
Tags: Biodiversity, Conventions
Geographical Indication Registry of India has accorded Geographical Indication (GI) tag to famous 'Erode turmeric' grown mainly in Erode district of Tamil Nadu.
Erode Turmeric is famous across the globe. Its two important varieties are- Chinna Nadan and Perum Nadan. Erode farmers raise Chinna Nadan.
It has grown as important commercial spice crop in Erode and bordering areas in Coimbatore district. Erode is one of the largest market for turmeric in India.
Thousands of small and marginal farmers are involved in its cultivation. Its prominent areas of cultivation are in Erode District are Kodumudi, Sivagiri, Havani, Gobichettipalayam, Anthiyur, Chennampatti, Sathyamangalam and Thalavady.
Turmeric
It is one of the oldest spices used in India since time immemorial. IT has been extensively mentioned in Ayurveda for its medicinal uses.

Earliest reference about turmeric was in Atharvaveda (6000 BC), in which turmeric was prescribed to cure jaundice.

During Sangam era of Tamils, around 2000 BCE, peasants grew turmeric plants in front of their houses.

There is also evidence that turmeric was one of commodities traded during Chera, Chola and Pandian kingdoms.

It has assumed greater importance in religious and socio-cultural traditions as it is considered as auspicious and holy herb.

It has multifaceted utility in food, medicine and cosmetics considering its unique aroma and color to the food items.
Geographical Indication (GI)
It is name or sign used on certain products which correspond to specific geographical location or origin.

It is covered as element of intellectual property rights (IPRs) under Paris Convention for Protection of Industrial Property.

It is accorded to natural, agricultural and manufactured goods (commodity) having special quality and established reputation.

It is awarded especially to goods and products which recognised for their origin, quality and reputation and gives it required edge in global market.

It also gives these products complete exclusivity, ensuring that no one can use their name. In India, GI recognition is valid for 10 years after which it needs to be renewed.

It enables stakeholders to authenticate their production while earning premium and derive improved livelihood. Its violation is punishable offence under law.

At international level, it is governed and regulated by WTO's Agreement on Trade-Related Aspects of Intellectual Property Rights (TRIPS).

In India, it is governed and regulated Geographical Indications of Goods (Registration and Protection Act), 1999 governs it.

This Act is administered by Controller General of Patents, Designs and Trade Marks, who is also Registrar of GI and is based in Chennai, Tamil Nadu.