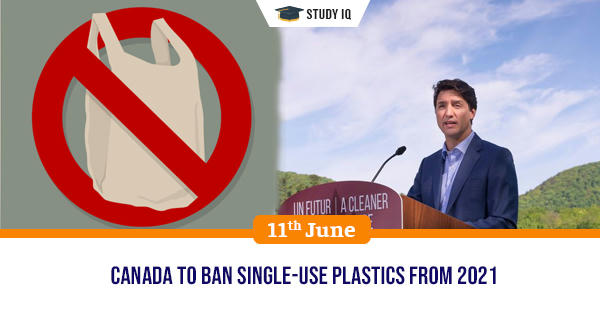 Canada to ban single-use plastics from 2021
Date: 11 June 2019
Tags: Conventions
Canada's Prime Minister Justin Trudeau has announced that single-use plastics will be banned in the country from 2021. This decision comes one year after Canada along with Germany, Britain, Italy along with European Union (EU) subscribed to Ocean Plastics Charter.
About Ocean Plastics Charter
It is a charter against pollution in the world's oceans. It is non-binding charter called on participating countries and EU to commit to making all plastics reusable, recyclable or recovered by 2030. It lays groundwork to ensure plastics are designed for reuse and recycling.

Members:

It was subscribed at 2018 G7 summit in Quebec by Canada, France, Germany, Britain and Italy (G7 minus two viz. United States and Japan) along with European Union.

Aim and scope:

It brings together leading governments, businesses and civil society organizations to support its objectives and commit to taking action to move toward more resource efficient and sustainable approach to the management of plastics.
About Single use Plastics
They are disposable plastics are used only once and then thrown in the trash. These items mainly include plastic bags, straws, coffee stirrers, soda and water bottles and most food packaging.

These products especially petroleum based are difficult to recycle as they are not biodegradable and usually dumped into landfill where it is buried or it gets into water and finds its way into ocean.

These plastic products do not biodegrade i.e. decompose into natural substance like organic waste and degrades break downs into tiny particles after many years.

In the process of breaking down, they release toxic chemicals which harms environment by pollution it and make their way into food and water supply.

These toxic chemicals can cause cancer, infertility, birth defects, impaired immunity and many other ailments in humans.

Need for ban:

Single-use items represent some 70

%

%of the plastic waste littering marine environment. Every year million birds and more than 100,000 marine mammals worldwide suffer injury or death by ingesting it through the food chain or becoming entangled in plastic.