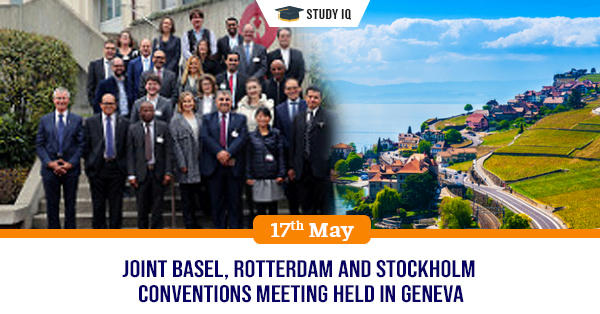 Joint Basel, Rotterdam and Stockholm Conventions Meeting held in Geneva
Date: 17 May 2019
Tags: Conventions
The joint meetings of three conventions on chemicals and waste viz. Basel, Rotterdam and Stockholm Conventions was held in Geneva, Switzerland . The theme of these meetings was "Clean Planet, Healthy People: Sound Management of Chemicals and Waste". It was overall 14th meeting of the Conference of the Parties (COP) to Basel Convention, 9th meeting of the COP to Rotterdam Convention and 9th meeting of COP to Stockholm Convention.
Outcomes of meeting
Meeting of Basel Convention: Two important issues were discussed and was decided that technical guidelines on e-waste and inclusion of plastic waste in Prior Informed Consent (PIC) procedure.
Meeting on Stockholm Convention: It was decided to list "Dicofol" in Annex A of this convention without any exemption. Besides, it was also decided to list "PFOA" with some exemptions in Annex A.
Meeting on Rotterdam Convention: Two new chemicals Phorate and : Hexabromocyclododecan (HBCD) were added in the list for mandatory Prior Informed Consent ( PIC) procedure in international trade.
Basel, Rotterdam and Stockholm conventions
They are multilateral environmental agreements, which share the common objective of protecting human health and the environment from hazardous chemicals and wastes.
Basel Convention on the Control of Transboundary Movements of Hazardous Wastes and their Disposal:

It aims at protecting people and environment from negative effects o inappropriate management of hazardous wastes worldwide.

It is the most comprehensive global treaty dealing with hazardous waste materials throughout their lifecycles, from production and transport to final use and disposal.

Rotterdam Convention on the Prior Informed Consent Procedure for Certain Hazardous Chemicals and Pesticides in International Trade:

It promotes international efforts to protect human health and the environment as well as enabling countries to decide if they want to import hazardous chemicals and pesticides listed in it.

It provides Parties with first line of defence against hazardous chemicals.

Stockholm Convention on Persistent Organic Pollutants (POPs):

It is global treaty to protect human health and environment from highly dangerous, long-lasting chemicals by restricting and ultimately eliminating their production, use, trade, release and storage.