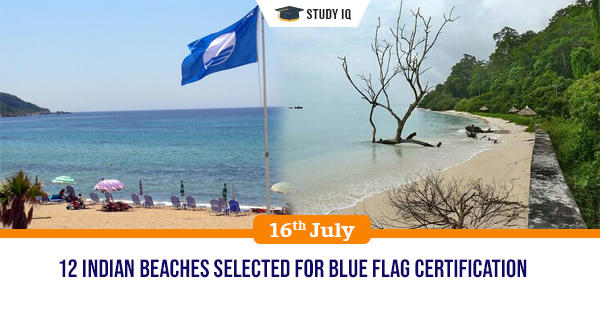 12 Indian beaches selected for Blue Flag certification
Date: 16 July 2019
Tags: Conventions
Union Ministry of Environment, Forests and Climate Change (MoEFCC) has selected 12 beaches in India for 'Blue Flag' certification. These beaches are at Bhogave (Maharashtra), Shivrajpur (Gujarat), Ghoghla (Diu), Miramar (Goa), Kappad (Kerala), Eden (Puducherry), Kasarkod and Padubidri (Karnataka), Mamallapuram (Tamil Nadu), Golden (Odisha), Rushikonda (Andhra Pradesh) and Radhanagar (Andaman & Nicobar Islands).
Pilot project 'Blue Flag'
To help Indian beaches meet these criteria, MoEFCC has launched pilot project 'Blue Flag' in December 2017 for beach clean-up and development. Its prime objective is to enhance standards of cleanliness, upkeep and basic amenities at beaches. Under it, structures such container toilet blocks, change rooms, shower panels, mini greywater treatment plants in an enclosed structure, mini solid waste recycling plants and off-grid solar photovoltaic panels are installed, provided they are a minimum 10 metres from the high tide line. It is funded through the ongoing Integrated Coastal Management Programme. Under it, each state or union territory has been asked to nominate a beach.
About Blue Flag certification
It is international recognition conferred on beaches and marinas that meet certain criteria of cleanliness and environmental propriety.

It is run by international, non-governmental, non-profit organisation Foundation for Environmental Education (FEE).

It started in France in 1985 and has been implemented in Europe since 1987, and in areas outside Europe since 2001, when South Africa joined.

Japan and South Korea are only countries in South and southeastern Asia to have Blue Flag beaches. Spain tops the list with 684 such beaches followed by France (492), Turkey (458) and Greece (432).

33 criteria:

There are nearly 33 criteria that must be met to qualify for Blue Flag certification. It includes water meeting certain standards such as waste disposal facilities, first aid equipment, , disabled-friendly facilities and no access to pets in the main areas of the beach. Some criteria are voluntary and some compulsory.

Yearly review:

Once approved, beaches are given qualification for a year and must apply annually to continue meriting the right to fly the flag at their locations.

Asia's first: Chandrabhaga beach in Odisha was first beach in Asia to awarded this covetted tag in June 2018.