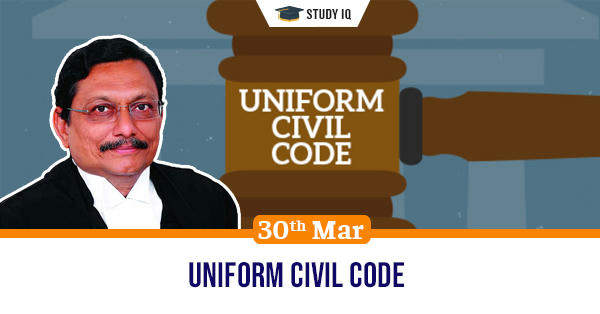 Uniform Civil Code
Date: 30 March 2021
Tags: Constitution
Issue
Chief Justice of India, SA Bobde has praised Goa Civil Code and desired for implementation of Uniform Civil Code across India.
Background
The idea of Uniform Civil Code is present in our constitution under Article 44. It is however non judicial when it comes to implementation.
Details
Uniform Civil Code is a set of common laws controlling personal matters such as marriage, adoption, inheritance, divorce and succession for all citizens of the country, irrespective of religion.

The code will simplify the laws that are currently seperated on the basis of religious beliefs like the Hindu code bill, Shariat law, and others.
Benefits
UCC will help in national integration by avoiding conflicting ideology.

It will remove the discrimination against vulnerable groups and will create harmony among diverse cultural groups across the country.

The code will convert complex laws into simple forms around marriage ceremonies, inheritance, succession, adoptions making them one for all.
Drawbacks
There will be serious issues on Freedom of Religion given under Fundamental Rights.

It would remove the diversity that is a major feature of India.