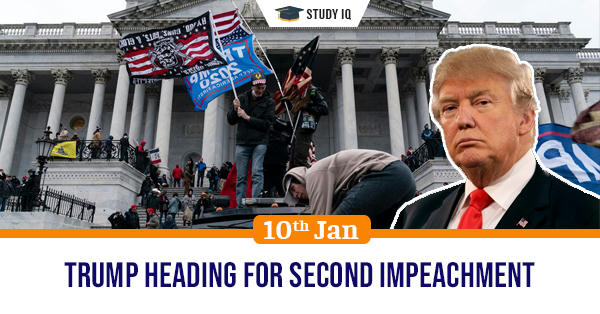 Trump heading for second impeachment
Date: 10 January 2021
Tags: Constitution
Issue
US Congressional Democrats are planning to introduce misconduct charges that could lead to a second impeachment of President Donald Trump.
Background
The charges are planned after Trump supporters laid a siege on the US Capitol following a series of inflammatory speech made by him.
Details
A misconception about impeachment is that it refers to the removal of a president from office. Impeachment refers only to bringing charges that a president engaged in a "high crime or misdemeanor" – similar to an indictment in a criminal case.

If a simple majority of the House's 435 members approves bringing charges, known as "articles of impeachment," the process moves to the Senate, the upper chamber, which has a trial.

The Constitution requires a two-thirds vote of the Senate to convict and remove a president. This has never occurred in the history of US.
Disqualification
Two historical precedents make clear that only a simple majority of the Senate is needed to disqualify Trump from holding future office.

However, under Senate precedent, a vote on disqualification is only held after a vote on whether to convict and remove from office.

There is no clarity regarding the disqualification effect after Trump vacates office. There is a possibility that disqualification from future office could be a penalty.
Impeachment of President in India
The president may be removed before the expiry of the term through impeachment for violating the Constitution of India by the Parliament of India.

The process may start in either of the two houses of the parliament. The house initiates the process by levelling the charges against the president.

The charges are contained in a notice that has to be signed by at least one-quarter of the total members of that house. The notice is sent up to the president and 14 days later, it is taken up for consideration.

A resolution to impeach the president has to be passed by a two-thirds majority of the total number of members of the originating house.

It is then sent to the other house. The other house investigates the charges that have been made. During this process, the president has the right to defend oneself through an authorised counsel.

If the second house also approves the charges made by special majority again, the president stands impeached and is deemed to have vacated their office from the date when such a resolution stands passed.