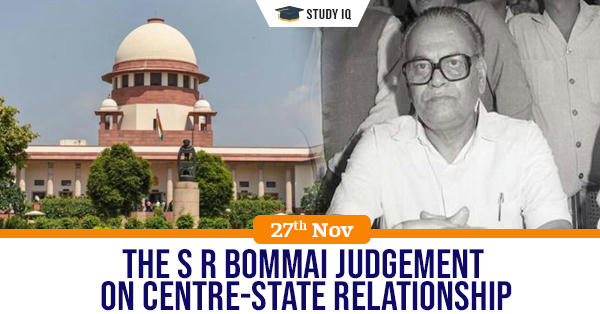 The S R Bommai judgement on centre-state relationship
Date: 27 November 2019
Tags: Constitution
Issue
The Supreme Court directed Maharashtra Governor Bhagat Singh Koshyari to ensure that the trust vote be held on 27th November.
Background
Several observations were made by the Supreme Court in its order, which will be relevant for this and similar situations involving the role of the Governor in a hung House in the future. The most important reference among this is 'S R Bommai case'.
Details
The historic judgment by the nine-judge Bench in SR Bommai vs Union of India in March 1994 laid down the supremacy of the floor test in determining the support enjoyed by the party in power.

In September 1988, a legislator from the Janata Dal, defected from the party, and presented a letter to Governor along with petitions from 19 other members of the Legislative Assembly, stating their decision to withdraw support to the Bommai government.

The government of Prime Minister Rajiv Gandhi at the Centre dismissed the state government using Article 356, without giving Bommai a chance to prove his majority, and imposed President's Rule.

The Karnataka decision was seen as controversial, and more such examples followed across India.

The nine-judge Bench in the Bommai case adjudicated on a range of issues around the constitutional limitations of the use of Article 356.
Highlights of S R Bommai judgement
The court laid down a number of guidelines to curb the Centre's capacity to dismiss a state government, and upheld the federal structure enshrined in the Constitution.

The ruling laid down the law that the only way to determine support enjoyed by a particular state government would be by means of a floor test.

The court ruled that the validity of a proclamation of President's Rule is subject to judicial review.

The court said that the only time the President shall have unconditional powers to dissolve a state government is when there is a complete breakdown of constitutional machinery.

The judgment also underlined the secular nature of the Constitution in the wake of the Babri demolition, and said that a party cannot resort to religion for the sake of gaining power and, if found to be indulging in religious politics, could be acted against using Article 356.
Significance of the judgement
Since the Constitution came into force, President's Rule under Article 356 has been imposed on states on over 100 occasions without any concrete reasons. These instances, however, declined considerably after the S R Bommai ruling.