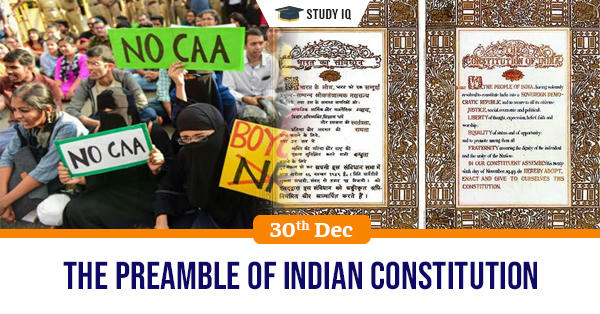 The preamble of Indian constitution
Date: 30 December 2019
Tags: Constitution
Issue
In the nationwide protests against the Citizenship Amendment Act, many of the programmes have been marked by a reading of the Preamble, which is reflective of the essence of the Constitution of India.
Background
A preamble is an introductory and expressionary statement in a document that explains the document's purpose and underlying philosophy.
Details
The original Preamble, adopted by the Constituent Assembly in 1949, declared India a "Sovereign Democratic Republic".

By the 42nd Amendment of 1976, enacted during the Emergency, the words "Socialist" and "Secular" were inserted and the Preamble now reads "Sovereign Socialist Secular Democratic Republic".

The Preamble is based on the Objective Resolution moved by Jawaharlal Nehru in the Constituent Assembly on December 13, 1946. The Resolution was adopted on January 22, 1947. It was the last part that was added into the constitution by the constituent assembly.

It secures justice, liberty, equality to all citizens of India and promotes fraternity amongst the people. It has been widely regarded as soul of the constitution.

The idea of the following things can be given by the Preamble which are:
1. Source of the Constitution
2. Nature of Indian State
3. A statement of its objectives
4. Date of its adoption
The Preamble of Indian Constitution
WE, THE PEOPLE OF INDIA, having solemnly resolved to constitute India into a SOVEREIGN SOCIALIST SECULAR DEMOCRATIC REPUBLIC and to secure to all its citizens:
JUSTICE, social, economic and political;
LIBERTY of thought, expression, belief, faith and worship;
EQUALITY of status and of opportunity;
and to promote among them all
FRATERNITY assuring the dignity of the individual and the unity and integrity of the Nation.
Issues regarding preamble
Berubari Union case
In this case, it was held by the Supreme Court that the Preamble is not the part of the Constitution. However, it recognised that the Preamble could be used as a guiding principle if a term in any article of the Constitution is ambiguous or has more than one meaning.

Kesvananda Bharti v. State of Kerala
In this case, The Supreme Court overturned its earlier decision and held that the Preamble is a part of the Constitution and can be amended under Article 368 of the Constitution. Again, in LIC of India case, the Supreme Court held that the Preamble is a part of the Constitution.