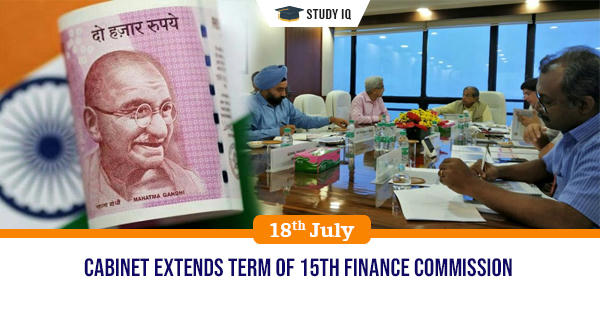 Cabinet extends term of 15th Finance Commission
Date: 18 July 2019
Tags: Constitution
Union Cabinet chaired by Prime Minister Narendra Modi has approved extension of term of Fifteenth Finance Commission by a month up to 30th November, 2019. It also approved amendment Terms of Reference (ToR) of the Commission to address concerns regarding funds for defence and internal security.
Cabinet Approvals
Extension of term:

It will enable Commission to examine various comparable estimates for financial projections in view of reforms and the new realities to finalise its recommendations for the period 2020-2025.

Amendment to ToR:

It will enable Commission to address serious concerns regarding the allocation of adequate, secure and non-lapsable funds for defence and internal security of India.

It is proposed to ensure an assured allocation of resources towards defence and internal security imperatives.

The Commission will also examine whether separate mechanism for funding of defence and internal security ought to be set up and if so how such a mechanism could be operationalized.
About Finance Commission
It is constitutional quasi-judicial body constituted by the President of India every fifth year under Article 280 of the Constitution of India. It consists of Chairman and four other members, appointed by President of India. It makes non-binding advisory recommendations to Government on following matters-
Distribution of net proceeds of taxes between Centre and States and allocation of respective shares of such proceeds between states.
Principles governing centre in granting aid to states

Measures to be taken to augment consolidated fund of states to supplement resources of local governments in states

Any other method referred by President of India in interests of sound finance
15th Finance Commission (XV-FC)
It was constituted by President in November 2017 in ' pursuance of clause (1) of article 280 of the Constitution and Finance Commission (Miscellaneous Provisions) Act, 1951.
It was to submit its Report on basis of its Terms of Reference (ToR) by 30th October, 2019 and to give recommendations for devolution of taxes and other fiscal matters for five fiscal years, commencing 1 April 2020 till March 31, 2025.
Composition: N. K. Singh is Chairman. Its full-time members are Ajay Narayan Jha, Ashok Lahiri and Anoop Singh. Ramesh Chand is its part-time member.
ToR of the Commission: It takes in to account above fiscal/budgetary reforms introduced by the Union Government in the past four years.