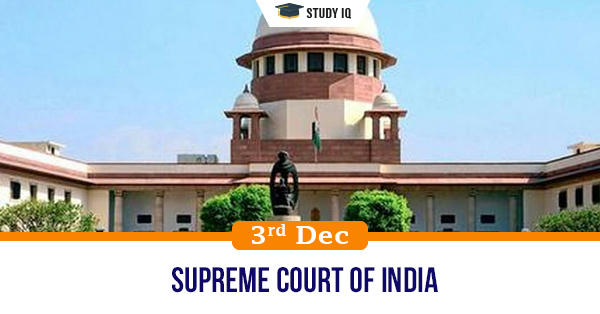 Supreme court of India
Date: 03 December 2020
Tags: Constitution
Issue
Former judge of Calcutta High Court, C S Karnan has been arrested for his offensive remarks against Supreme Court judges.
Background
In 2017, ex-Justice Karnan became the first sitting high court judge to have been sentenced to jail. He was sentenced to six months for contempt of court.
Details
Supreme Court
The Supreme Court of India is the supreme judicial body of the government of India and the highest court of India under the constitution.

It is the most senior constitutional court, and has the power of judicial review. The Chief Justice of India is the head and chief judge of the supreme court and the court consists of a maximum of 34 judges and it has extensive powers in the form of original, appellate and advisory jurisdictions.

A Person who has retired as a judge of the Supreme Court is debarred from practicing in any court of law or before any other authority in India.

However, Supreme Court and high court judges are appointed to various posts in tribunals and commissions, after their retirement.

Under Articles 129 and 142 of the constitution the Supreme Court has been vested with power to punish anyone for contempt of any court in India including itself.
Eligibility
A citizen of India not exceeding 65 years age per Article 124 of the Constitution who has been:
a judge of one high court or more (continuously), for at least five years,

an advocate there, for at least ten years,

a distinguished jurist, in the opinion of the president, power conferred by clause 2 of article 124 of the Constitution of India
Appointment
Judges of the Supreme Court shall be appointed by the President by warrant under his/her hand and seal after consultation with such of the Judges of the Supreme Court and President for the purpose and shall hold office until he attains the age of 65 years.
Removal
Article 124(4) of the constitution, President can remove a judge on proved misbehaviour or incapacity when parliament approves with a majority of the total membership of each house in favour of impeachment and not less than two thirds of the members of each house present.

For initiating impeachment proceedings against a judge, at least 50 members of Rajya Sabha or 100 members of Lok Sabha shall issue the notice per Judges (Inquiry) Act, 1968.