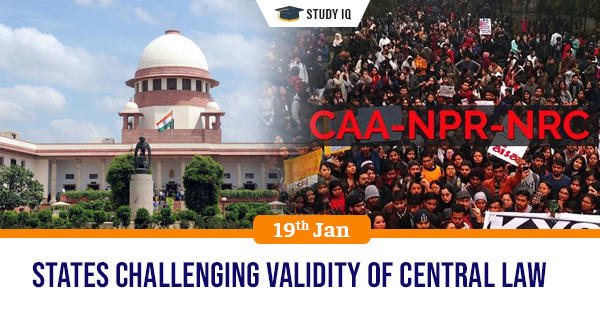 States challenging validity of central law
Date: 19 January 2020
Tags: Constitution
Issue
Multiple states such as Kerala, Punjab and Chhattisgarh have moved the Supreme Court under Article 131, challenging central laws such as CAA and NIA (Amendment) act 2019. It is therefore necessary to check for the validity of this move.
Background
Kerala's suit asks for a declaration that the CAA, 2019, is violative of the Constitution, and against the principle of secularism that is a basic feature of the Constitution.
Details
Article 131 confers exclusive jurisdiction on the Supreme Court in disputes involving States, or the Centre on the one hand and one or more States on the other. This means no other court can entertain such a dispute.

It is well-known that both High Courts and the Supreme Court have the power to adjudicate cases against the State and Central governments.

In particular, the validity of any executive or legislative action is normally challenged by way of writ petitions, under Article 226 of the Constitution in respect of High Courts, and, in respect to fundamental rights violations, under Article 32 in the Supreme Court.

State governments cannot complain of fundamental rights being violated. Therefore, the Constitution provides that whenever a State feels that its legal rights are under threat or have been violated, it can take the dispute to the Supreme Court under Article 131.
Are the suits valid?
There are two conflicting opinions of the Supreme Court on this point. In 2011, in State of Madhya Pradesh v. Union of India and Another, the court said: "...when the Central laws can be challenged in the State High Courts as well and also before this Court under Article 32, normally, no recourse can be permitted to challenge the validity of a Central law under the exclusive original jurisdiction of this Court provided under Article 131."

However, in State of Jharkhand vs. State of Bihar and Another (2014), another Bench said it was unable to accept the view that the constitutionality of a law cannot be raised in a suit under Article 131.
Kerala's argument
Kerala's suit points out that under Article 256 of the Constitution, the State would be compelled to comply with the CAA and rules and orders passed by the Centre.

As it believes that these laws and rules are arbitrary, unreasonable, and violative of fundamental rights, a dispute involving law and fact has indeed arisen between Kerala and the Centre.

This dispute involves both the legal rights of the State and the fundamental rights and other legal rights of its inhabitants.
Way ahead
Given the reference by a two-judge Bench, the Supreme Court may have to constitute a larger Bench to decide the question whether the suits challenging central laws are maintainable.