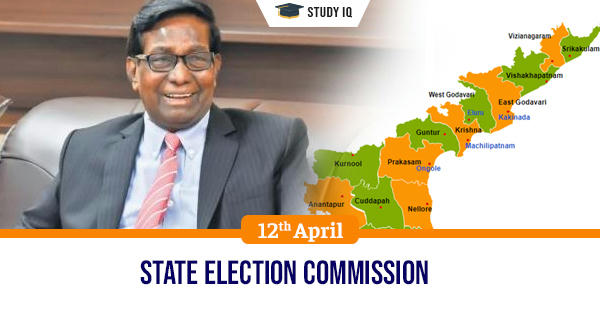 State Election Commission
Date: 12 April 2020
Tags: Constitution
Issue
Andhra Pradesh government has appointed retired judge of Madras High Court, V. Kanagaraj as State Election Commissioner through an ordinance.
Background
The State government had earlier reduced the tenure of the former SEC, N. Ramesh Kumar, from five years to three, resulting in his automatic termination.
Details
State Election Commission
State Election Commission has been entrusted with the function of conducting free, fair and impartial elections to the local bodies in the state. The commissioner is appointed by the governor.

Part-IX and Part-IXA were incorporated through the amendment no.73 and no.74 in the constitution of India covering provisions regarding the Panchayats and Municipalities respectively. These parts cover constitutions of Panchayats and Municipality including their elections by the State Election Commission.
Functions
State election commission carries out activities related to preparation of wards / election division as per local bodies rules, decision of boundaries and distribution of seats along with preparation of voters list for the local bodies organizations like Gram Panchayat, Taluka and District Panchayat / Municipality and Municipal Corporation of the state and conducting general / mid-term / bye-elections and supervising them.

The Constitution of India vests in the State Election Commission, consisting of a State Election Commissioner, the superintendence, direction and control of the preparation of electoral rolls for, and the conduct of all elections to the Panchayats and the Municipalities, under Articles 243K, 243ZA.

The Legislature of a State may, by law, make provision with respect to all matters relating to, or in connection with, elections to the Panchayats.

Subject to the provisions of any law made by the Legislature of a State the conditions of service and tenure of office of the State Election Commissioner shall be such as the Governor may by rule determine: Provided that the State Election Commissioner shall not be removed from his office except in like manner and on the like ground as a Judge of a High Court and the conditions of service of the State Election Commissioner shall not be varied to his disadvantage after his appointment.

The provisions of Article 243K of the Constitution, which provides for setting up of SECs, are almost identical to those of Article 324 related to the EC. In other words, the SECs enjoy the same status as the EC.