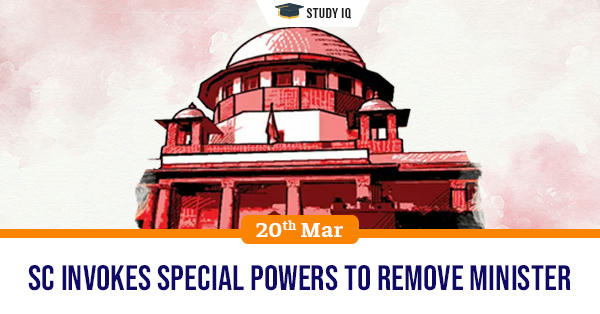 SC invokes special powers to remove minister
Date: 20 March 2020
Tags: Constitution
Issue
In a rare move, the Supreme Court invoked its plenary powers and ordered forthwith removal of BJP lawmaker and Manipur Forest Cabinet Minister TH Shyamkumar, restraining him from entering the Assembly till further orders.
Background
The top court rarely invokes its plenary power under Article 142 of the Constitution to remove a cabinet minister from any government.
Details
Plenary powers
Article 142 of Constitution of India empowers the Supreme Court of India to pass any decree or order necessary for doing "complete justice" in any matter pending before it.

That on perusal of judgment passed by Supreme Court invoking Article 142(1) reveals that this power has been employed by the Supreme Court for two purposes namely (1) to give a go-by to the procedural requirement (2) to rectify substantive error by bringing finality to a cause or matter by invoking Article 142 at the time of passing a decree or making an order.

Article 142(1) does not confer a fresh source of power to the Supreme Court for creating new law nor does it create an independent basis of jurisdiction but it act supplementary to Articles 32 and 136 of the Constitution of India.
Jurisdictions of SC
Original jurisdiction
Under Article 131, Supreme Court has original Jurisdiction in matters related any dispute between:
Government of India and one or more states

Government of India and States on one side and State(s) in other side

State(s) and State(s)
The dispute should involve a question whether of law or fact on which depends existence of a legal right which the court is called upon to determine.
Appellate jurisdiction
Supreme Court is the Highest Court of appeal and the writs and decrees of Supreme Court run throughout the country. The cases come to the Supreme Court in the form of appeals against the judgments of the lower courts and this is called appellate jurisdiction.
An appeal can be made in the Supreme Court against any judgment, decree or final order of the High Court in the territory of India, whether in a civil criminal or other proceedings, if the High Court Certified that the case involves a substantial question of law as to the interpretation of the Constitution.
Advisory Jurisdiction
Article 143 (Power of President to consult Supreme Court) discusses the advisory jurisdiction of the Supreme Court.

If the president feels that a question of law or fact has arisen or is likely to arise and the question is of such a nature and of such public important that it is expedient to obtain the opinion of the Supreme Court upon it, he can refer the same to Supreme Court for its advisory Opinion. Such an opinion is not binding on the president.