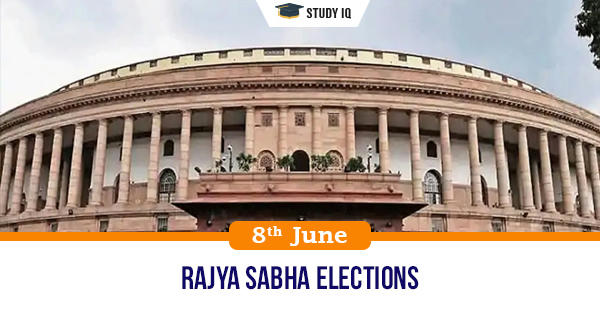 Rajya Sabha elections
Date: 08 June 2020
Tags: Constitution
Issue
Elections to 18 Rajya Sabha seats, which were postponed after the global Covid-19 outbreak, will be held on June 19.
Details
The Rajya Sabha or Council of States is the upper house of the bicameral Parliament of India. It currently has a maximum membership of 245, of which 233 are elected by the legislatures of the states and union territories using single transferable votes through Open Ballot.

The President can appoint 12 members for their contributions to art, literature, science, and social services, through nomination.

Rajya Sabha members are elected indirectly by the people, that is, by the MLAs. How many Rajya Sabha members a state can send depends on its population. Hence, the number of elected seats too changes as states are merged, bifurcated or new ones are created.

Members of a state's Legislative Assembly vote in the Rajya Sabha elections in what is called proportional representation with the single transferable vote (STV) system. Each MLA's vote is counted only once.

In this system, MLAs don't vote for each seat. Instead, the MLAs are given a paper with the names of all candidates. They have to give their order of preference for each candidate, marking 1,2,3 against their names. If 10 or more members choose a candidate as their first choice, he/she gets elected.

The political party that has a majority in the state Assembly normally gets to send the maximum number of MPs to the Rajya Sabha.
EX: Let's take a hypothetical example of a state which has three Rajya Sabha vacancies.
Let's say Party A with 100 seats and Party B with 40 seats populate the 140-seat Assembly. Both parties can field three candidates each for the three Rajya Sabha seats.

Now, to make it through, a candidate should get a certain number of votes. In this case, the total number of MLAs (140) is multiplied by 100. This number is divided by the number of vacancies (3) plus 1.

That brings us to 3,500. This total number is added to 1. Since each MLA has 100 votes, a candidate would, in this case, need 3,501 votes or the backing of 36 MLAs to win.

Every candidate in the race requires one-fourth of the total number of votes plus one to get elected. Each voter ranks his preferences and if the candidate who is the first choice has enough votes already or no chance of being elected, the vote is transferred to the second choice and so on.
Qualifications
Be a citizen of India.

Make and subscribe before some person authorized in that behalf by the Election Commission an oath or affirmation according to the form set out for the purpose in the Third Schedule to the Constitution.

Be at least 30 years old.

Be elected by the Legislative Assembly of States and Union territories by means of single transferable vote through proportional representation.

Not be a proclaimed criminal.

Not be a subject of insolvent, i.e. he/she should not be in debt that he/she is not capable of repaying in a current manner and should have the ability to meet his/her financial expenses.

Not hold any other office of profit under the Government of India.

Not be of unsound mind.

Possess such other qualifications as may be prescribed in that behalf by or under any law made by Parliament.