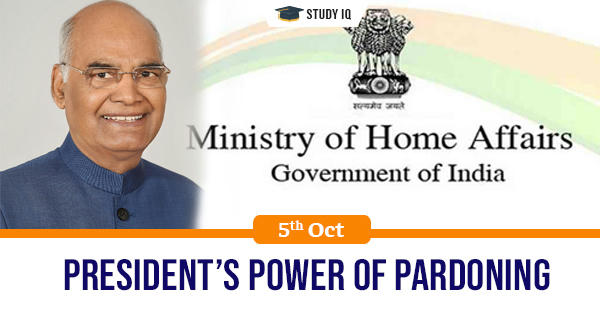 President's power on pardoning
Date: 05 October 2019
Tags: Constitution
Issue
The President has commuted death sentences to life imprisonment in at least 20 cases over the past nine years, based on the recommendations received from the Ministry of Home Affairs (MHA).
Background
These commutations were based on the President's exercise of powers under Article 72 of the Constitution after the convicts filed mercy petitions.
Details
Article 72
Article 72 says that the President shall have the power to grant pardons, reprieves, respites or remissions of punishment or to suspend, remit or commute the sentence of any person convicted of any offence:
(a) in all cases where the punishment or sentence is by a court Martial.
(b) in all cases where the punishment or sentence is for an offence against any law relating to a matter to which the executive power of the Union extends.
(c) in all cases where the sentence is a sentence of death.
The question is that whether this power to grant pardon is absolute or this power of pardon shall be exercised by the President on the advice of Council of Ministers. The pardoning power of President is NOT absolute.
Types of pardon
Pardon: means completely absolving the person of the crime and letting him go free. The pardoned criminal will be like a normal citizen.

Commutation: means changing the type of punishment given to the guilty into a less harsh one.
Ex: Death penalty commuted to a life sentence.
Reprieve: means a delay allowed in the execution of a sentence, usually a death sentence, for a guilty person to allow him some time to apply for Presidential Pardon or some other legal remedy to prove his innocence or successful rehabilitation.

Respite: means reducing the quantum or degree of the punishment to a criminal in view of some special circumstances, like pregnancy, mental condition etc.

Remission: means changing the quantum of the punishment without changing its nature.
Ex: Reducing twenty year rigorous imprisonment to ten years.