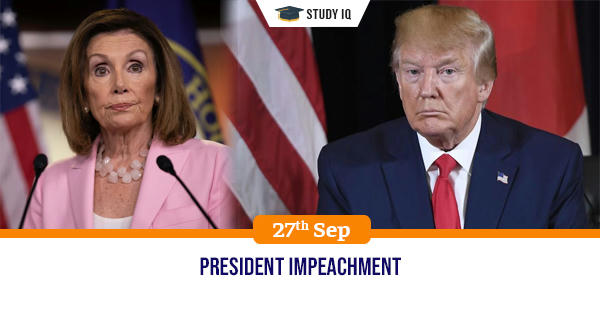 President impeachment
Date: 27 September 2019
Tags: Constitution
Issue
US House of Representatives Speaker Nancy Pelosi announced that the House would launch an impeachment inquiry against President Donald Trump.
Background
Impeachment is the process by which a legislative body levels charges against a government official. Impeachment does not in itself remove the official from office but it is the equivalent to an indictment in criminal law, and thus is only the statement of charges against the official.
Impeachment of President in India
The president may also be removed before the expiry of the term through impeachment for violating the Constitution of India by the Parliament of India..

The process may start in either of the two houses of the parliament.

The house initiates the process by levelling the charges against the president. The charges are contained in a notice that has to be signed by at least one-quarter of the total members of that house.

The notice is sent up to the president and 14 days later, it is taken up for consideration.

A resolution to impeach the president has to be passed by a two-thirds majority of the total number of members of the originating house. It is then sent to the other house.

The other house investigates the charges that have been made. During this process, the president has the right to defend oneself through an authorised counsel.

If the second house also approves the charges made by special majority( two third majority of members present and voting which is more than half of the strength of the house) again, the president stands impeached and is deemed to have vacated their office from the date when such a resolution stands passed.

No president has faced impeachment proceedings so the above provisions have never been used.