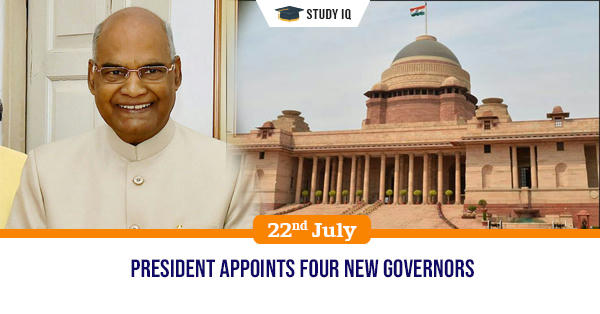 President appoints four new Governors
Date: 22 July 2019
Tags: Constitution
President Ram Nath Kovind has appointed Governors of four states including West Bengal, Tripura, Bihar and Nagaland by exercising his authority under Article 155 and transferred two Governors. The appointments will be effective from dates incumbents take charge of their respective offices.
President made following appointments/ changes -
Jagdeep Dhankhar:

was appointed as Governor of West Bengal

Ramesh Bais:

was appointed as Governor of Tripura

Phagu Chauhan:

was appointed as Governor of Bihar

N. Ravi:

was appointed as Governor of Nagaland

Anandiben Patel

, Governor of Madhya Pradesh was transferred and appointed as Governor of Uttar Pradesh.

Lal Ji Tandon

, Governor of Bihar was transferred and appointed as Governor of Madhya Pradesh
Governors
He/She is the head of the executive of the state (Article 154). Appointed by President of India (under Article 155 of Constitution of India). 7th Constitution Amendment Act of 1956 (amending Article 153), facilitated appointment of same person as governor of 2 or more states.

Qualifications for appointment (Article 157 and 158)

: (i) Should be a citizen of India. (ii) Should have completed 35 years of age. (iii) Should not hold any office of profit under Union Govt. or State Govt. or any local Authority or any other public authority. (iv) Should not be member of either house of parliament or a house of the state legislature.

Tenure (Article 156):

Governor holds office for a term of 5 years from the date on which he assumes office. This term of 5 years is subject to the pleasure of president. He/she can resign anytime by addressing a resignation letter to the president.

Oath (Article 159):

The oath of office to the governor is administered by the chief justice of concerned HC and in his absence by the senior-most judge of the HC available.