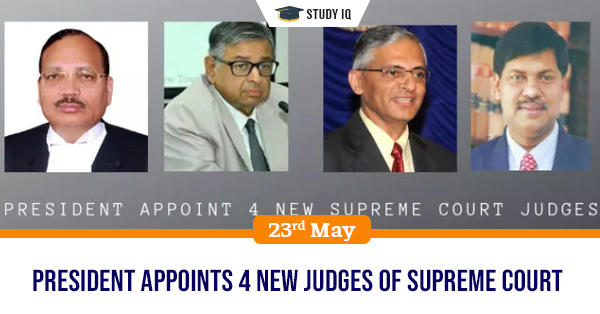 President appoints 4 new judges of Supreme Court
Date: 23 May 2019
Tags: Constitution, Judiciary & Judgments
President of India Ram Nath Kovind in exercise of powers under Article 124 (2) has appointed four judges to Supreme Court. They are Justice Aniruddha Bose, Justice A S Bopanna, Justice B R Gavai and Justice Surya Kant. With appointment of these four judges, SC will now function with its full sanctioned strength of 31 judges, including Chief Justice of India. At present, the apex court has strength of 27 judges.
Appointment Procedure:
Article 124(3) of the constitution:

It mentions following criteria for people eligible to become a Supreme Court (SC) Judge (i) High Court (HC) judge who has held that post for 5 years or more. (ii) Advocate who has practiced in HC/SC for 10 years or more. (iii) Distinguished Jurist (no judge appointed on this basis till date).

Article 124(2):

It says that judges of Supreme Court can be appointed by President of India after consultation with such number of Judges of the SC/HCs as he deems necessary. For appointment of any Judge of SC other than Chief Justice of India (CJI), CJI must be consulted.

Collegium system:

It was formalized by three Judges cases of 1981, 1993 & 1998 for the purpose of consultation mentioned in Article 124 (2). The collegium for appointing SC judge consists of CJI and four senior-most judges of SC.

Memorandum of Procedure (MoP)

: It was evolved after Third Judge Case of 1998 to provide the process for Collegium to recommend names for appointments to the Executive. As per it, President of India can either accept recommendation or send it back for reconsideration. The reconsidered advice is binding on President and he must accept it.