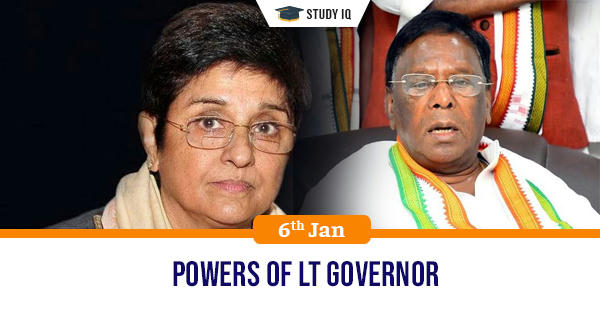 Powers of Lt Governor
Date: 06 January 2020
Tags: Constitution
Issue
Puduchery Chief Minister V. Narayanasamy has issued an order declaring as "illegal" and "null and void" an order of Lieutenant Governor Kiran Bedi annulling the appointment of State Election Commissioner T.M. Balakrishnan.
Background
The appointment of State Election Commissioner of Puducherry is an executive action but his removal can only be through a legislative action as referred in Article 243 K, 243 L & 243- ZB of the Constitution of India.
Details
The powers a Lt Governor has in the state they administer is equivalent to that of the President. They can appoint Chief Ministers, Ministers, the State Election Commissioner and judges of the District Courts.

The Lt Governor can also dissolve the state Assembly if they see the need, and if the Assembly is not in session, they can promulgate ordinances. Based on the recommendation of the Election Commission, the Governor can also disqualify a legislator.

Only three Union Territories, Andaman and Nicobar, Delhi and Puducherry, have Lt. Governors.

The Supreme Court had said that the Lt. Governor of Delhi has more powers that the Governor of a State and he does not have to listen to the advice of the Council of Ministers.

In the case of Delhi, since portfolios like land, police and public order fall under the domain of the Centre, of which the Lt. Governor is a representative, he holds more powers than a Governor.
Lt Governor and his powers
The LG, like the Governor, acts a titular head of the Union Territory. But, the powers of an LG are wider than that of a Governor. This is because, a Governor of a state has to act solely on the aid and advice of the Council of Ministers, whereas, the LG does not need the approval of the Council of Ministers on every matter.

In the Articles 239 and 239AA of the Constitution of India, the functions, powers and duties of the Lt. Governor are defined clearly. He is a representative of the President and acts on the aid and recommendation of the council of ministers.

Under President's Rule, the Lt. Governor becomes full-fledged executive head of the government and has the power to appoint a group of advisors who act as council of ministers. The duration of President's rule is also subject to discretion of the Lt. Governor.