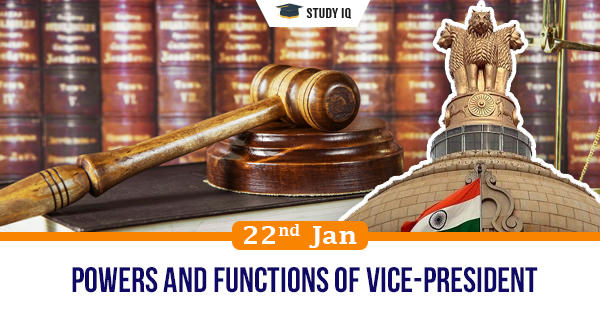 Powers and functions of Vice-President
Date: 22 January 2021
Tags: Constitution
Issue
Kamala Harris has become the first Woman Vice-President of USA. She also becomes the first Asian to hold federal office.
Details
The US vice president is also an officer in the legislative branch, as president of the Senate. In this capacity, the vice president is empowered to preside over Senate deliberations, but may not vote except to cast a tie-breaking vote.

The vice president is indirectly elected together with the president to a four-year term of office by the people of the United States through the Electoral College.

The vice president takes over the "powers and duties" of the presidency in the event of a president's removal, death, resignation, or inability.
Indian Vice-President
The Vice President of India is the second-highest constitutional office in India after the President. Article 63 of Indian Constitution states that "There shall be a Vice President of India."

The Vice President acts temporarily as President in the absence of the president due to death, resignation, impeachment, or other situations.

The Vice President of India is also ex officio Chairperson of the Rajya Sabha. When a bill is introduced in Rajya Sabha, the vice president decides whether it is a financial bill or not.

If he is of the opinion, a bill introduced in the Rajya Sabha is a money bill, he would refer the case to the Speaker of the Lok Sabha for deciding it.

The Vice President may resign his office by submitting his resignation to the President. The resignation becomes effective from the day it is accepted.

All disputes arising in connection with the election of the Vice President are petitioned to the Supreme Court of India.
Election
The Vice President is elected indirectly by members of an electoral college consisting of the members of both Houses of Parliament in accordance with the system of Proportional Representation by means of the Single transferable vote.

The election of the Vice President is slightly different from the election of the President as the members of state legislatures are not part of the electoral college but the nominated members of both the houses are part of electoral college for the vice presidential election.
Qualification
Be a citizen of India

Have completed more than 35 years of age

Not hold any office of profit
Removal
The Constitution states that the Vice President can be removed by a resolution of the Rajya Sabha passed by an effective majority (i.e., majority of all the then member of the house ) and agreed by the Lok Sabha with simple majority.

But no such resolution may be moved unless at least 14 days' advance notice has been given. Notably, the Constitution does not list grounds for removal.