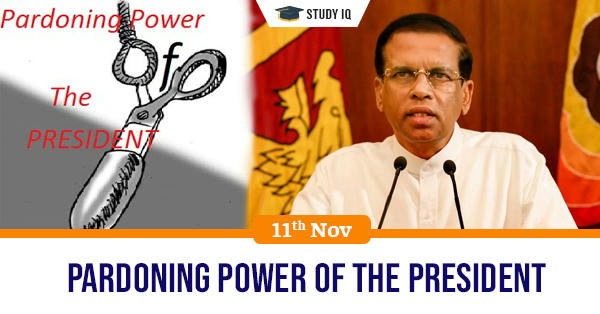 Pardoning power of the president
Date: 11 November 2019
Tags: Constitution
Issue
Sri Lanka's President Sirisena has pardoned a death-row prisoner, who had murdered a Swedish teenager, sparking national outrage.
Background
A pardon is a government decision to allow a person to be absolved of guilt for an alleged crime or other legal offense, as if the act never occurred. The pardon may be granted before or after conviction for the crime, depending on the laws of the jurisdiction.
Pardoning powers in India
The pardoning powers of the Indian President are elucidated in Art 72 of the Indian Constitution under the following:
in all cases where the punishment or sentence is by a Court Martial;

in all cases where the punishment or sentence is for an offence against any law relating to a matter to which the executive power of the Union extends;

in all cases where the sentence is a sentence of death.

Pardon
Completely absolving the person of the crime and letting him go free. The pardoned criminal will be like a normal citizen.
Changing the type of punishment given to the guilty into a less harsher one. For example, a death penalty commuted to a life sentence.
A delay allowed in the execution of a sentence, usually a death sentence, for a guilty person to allow him some time to apply for Presidential Pardon or some other legal remedy to prove his innocence or successful rehabilitation.
Reducing the quantum or degree of the punishment to a criminal in view of some special circumstances, like pregnancy, mental condition etc.
Changing the quantum of the punishment without changing its nature. for eg. reducing 20 year rigorous imprisonment to 10 years.
Difference between pardoning powers of President and Governor
The power of the President to grant pardon extends in cases where the punishment or sentence is by a Court Martial but Article 161 does not provide any such power to the Governor.

The President can grant pardon in all cases where the sentence given is sentence of death but pardoning power of Governor does not extend to death sentence cases.