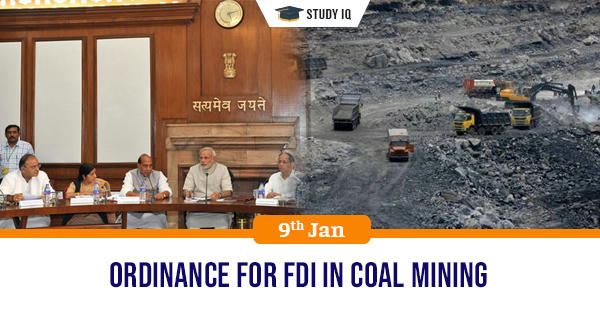 Ordinance for FDI in coal mining
Date: 09 January 2020
Tags: Constitution
Issue
The Union Cabinet approved an ordinance to amend two laws to ease mining rules, enabling foreign direct investment in coal mining.
Background
Government sources said the historic decision would boost the ease of doing business and increase the growth avenues.
Details
It also said that "end-use restrictions" had been done away with allowing anyone to participate in the auction of coal blocks. The ordinance would strengthen the auction process of those mines whose leases were expiring on March 31, 2020.

They also said the steel industry would get cheaper inputs, leading to an increase in 'competitiveness'.
Ordinance and ordinance making powers
Ordinance
Article 123 of the Constitution grants the President certain law making powers to promulgate Ordinances when either of the two Houses of Parliament is not in session and hence it is not possible to enact laws in the Parliament.

An Ordinance may relate to any subject that the Parliament has the power to legislate on. Conversely, it has the same limitations as the Parliament to legislate, given the distribution of powers between the Union, State and Concurrent Lists.
Powers
If at any time, except when both Houses of Parliament are in session, the President is satisfied that circumstances exist which render it necessary for him to take immediate action, he may promulgate such Ordinances as the circumstances appear to him to require.

An Ordinance promulgated under this article shall have the same force and effect as an Act of Parliament, but every such Ordinance:
(a) shall be laid before both Houses of Parliament and shall cease to operate at the expiration of six weeks from the reassembly of Parliament, or, of before the expiration of that period resolutions disapproving it are passed by both Houses, upon the passing of the second of those resolutions
(b) may be withdrawn at any time by the President.
If and so far as an Ordinance under this article makes any provision which Parliament would not under this Constitution be competent to enact, it shall be void.