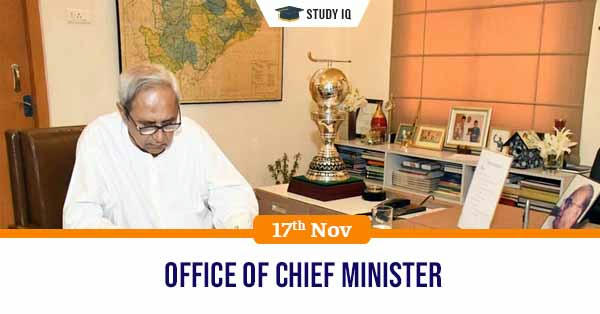 Office of Chief Minister
Date: 17 November 2020
Tags: Constitution
Issue
Nitish Kumar of NDA was sworn in as the Chief Minister of Bihar for the 4th consecutive time. The NDA has managed to be in power from the past 15 years.
Details
The Chief Minister is the head of the government. He is assisted by his council of ministers who are a part of state executive along with Governor.
Appointment
The governor appoints the leader of the largest party of the house or leader chosen by the largest coalition to become the chief minister.

The governor may exercise situational discretion if no party has clear majority. He may ask a leader to become chief minister and then prove his majority on floor of the house.

In case the chief minister dies and no successor is present then the governor may appoint one at his discretion but if the ruling party has a nominee then the governor has no choice but to appoint that person.

Chief Minister must become member of either house within 6 months or else he ceases to hold his office.

His term of office is for five years, but remains in office till they enjoy the support of the majority in the Assembly.
Powers and functions
He communicates to the governor all matters related to administration of the state and proposed legislations.

He furnishes information required by the governor relating to administration of the union or proposed legislations.

He submits to the consideration of the council of ministers any matter on which decision has been taken by an individual minister but the Council of Ministers has not considered it.

He can advice governor to summon or prorogue the house sessions. He can advice dissolution of legislative assembly to the governor anytime. He announces government policies on the floor of the house.

He is advisor of governor regarding appointments to various regulators and constitutional bodies of the union.

He recommends people to be appointed as ministers to the governor. He allocates and reshuffles portfolios amongst them.

He can ask the minister to resign or tell the governor to dismiss him. He supervises activities of all ministers.

His resignation or death leads to dissolution of the council of ministers.