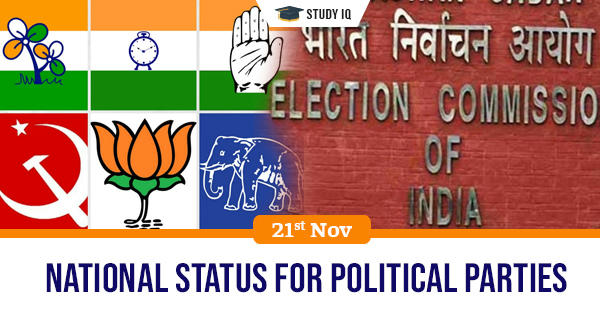 National status for political parties
Date: 21 November 2019
Tags: Constitution
Issue
The Election Commission of India is likely to take a call on whether the Nationalist Congress Party, the All-India Trinamool Congress and the Communist Party of India can continue to have the status of national parties.
Background
A party's candidates have to secure at least 6% vote share in four States or more and it must have at least four Lok Sabha MPs for the status.
Details
The ECI has been hearing the issue of de-recognition of the three parties after their performance in the Lok Sabha elections.

An ECI official said the parties had asked for more time since Assembly elections in Jharkhand, scheduled to finish in December, and Delhi, expected to go to polls in early 2020, were coming up.
National Party criteria
A registered party is recognised as a national party only if it fulfils any one of the following three conditions:
A party wins 2% of seats in the Lok sabha from at least three different states.

At a general election to Lok Sabha or Legislative Assembly, the party polls 6% of votes in any four or more states and in addition it wins four Lok Sabha seats.

A party gets recognition as a state party in four states.
Benefits of National party
A recognised party enjoys privileges like a reserved party symbol, free broadcast time on state run television and radio, a consultation in setting of election dates and giving input in setting electoral rules and regulations.