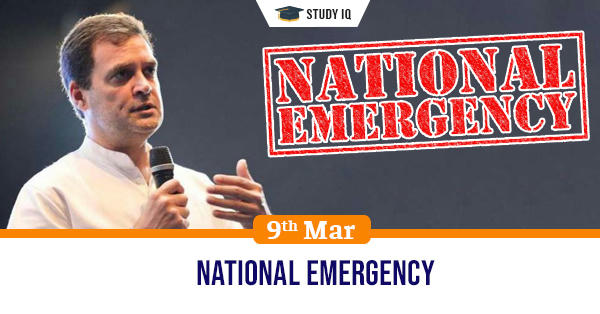 National Emergency
Date: 09 March 2021
Tags: Constitution
Issue
Former Congress President Rahul Gandhi has said that the Emergency imposed in 1975 by then PM Indira Gandhi was a mistake.
Background
Many Congress leaders have refused to comment on the issue but several others including Pranab Mukherjee have spoken on the issue.
Details
Emergency is a condition in which the federal nature of constitution becomes unilateral. The President of India takes administration into his own hands to address a precarious situation.

Under Article 352, National Emergency can only be declared on two grounds: External Emergency (External aggression or war) & Internal Emergency (armed rebellion).
Emergency provisions
The President can declare emergency only on the basis of a written request by the Council of Ministers headed by the Prime Minister.

It should be approved by both the houses of the Parliament within one month with a special majority.

If Lok Sabha has been dissolved during that period, approval time extends upto 30 days from constitution of new Lok Sabha.

The emergency can be extended indefinitely but has to be approved every six months by the Parliament.

The term of Lok Sabha can be extended indefinitely one year at a time until emergency exists.
Withdrawing emergency
The President can withdraw emergency at any time if he considers situation as appropriate.

The President has to withdraw emergency if Lok Sabha passes a resolution for its withdrawal with a simple majority.
Emergency and Fundamental rights
Fundamental rights under the constitution, except Article 21 and 22 can be suspended during internal emergency.

Article 358 comes into action once external emergency is imposed. Under Article 358, six fundamental rights under Article 19 get automatically suspended.

Article 359 is triggered when internal emergency is imposed by the President. Except Article 21 and Article 22, all other fundamental rights can be suspended.