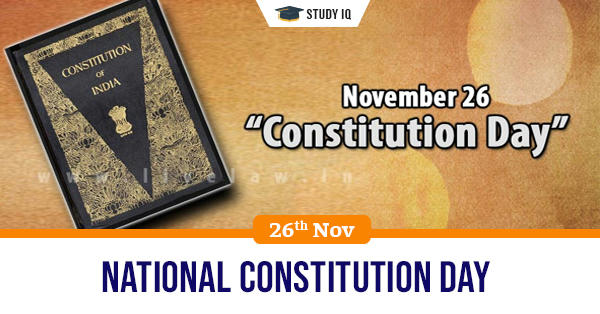 National Constitution day
Date: 26 November 2019
Tags: Constitution
Issue
The government is celebrating 'Constitution Day' or 'Samvidhan Diwas' to mark the 70th anniversary of adoption of the Constitution by the Constituent Assembly.
Background
A Constitution is an important law of the land. It determines the relationship of the citizens with the governments.
It lays down principles and guidelines which are required for people belonging to different ethnic and religious groups to live in harmony.
Special features of our constitution
The Indian Constitution is remarkable for many outstanding features which make it different from the other constitutions, even though it has been prepared after "ransacking all the known Constitutions of the world" and most of its provisions are substantially borrowed from others.

Britain: Parliamentary government, Rule of Law, Legislative procedure, Single citizenship,Cabinet system, Prerogative writs, Parliamentary privileges, Bicameralism.

USA: Impeachment of the president, Functions of president and vice-president,Removal of Supreme Court and High court judges, Fundamental Rights.

Ireland: Directive Principles of State Policy, Method of Election of the president, Members nomination to the Rajya Sabha by the President.

Canada: Centrifugal form of federalism where the centre is stronger than the states, Residuary powers vest with the centre, Centre appoints the Governors at the states, Advisory jurisdiction of the supreme court.

Australia: Concept of Concurrent list, Article 108 i.e. Joint sitting of the two houses, Freedom of trade and commerce.

Russia: Fundamental duties, The ideals of justice (social, economic and political), expressed in the Preamble.

France: Concept of "Republic", Ideals of Liberty, Equality and Fraternity(contained in the Preamble).

Germany: Fundamental Rights are suspended during Emergency.

South Africa: Election of members of the Rajya Sabha, Amendment of the Constitution.

Japan: Concept of "procedure established by Law".

The Indian Constitution is the most lengthy and detailed handwritten constitution of any sovereign country in the world.

Our constitution has a single integrated system of Courts for the Union as well as the States which administer both Union and State laws, and the Supreme Court heads the entire system.

Another remarkable feature of the Indian Constitution is that it confers upon a federal system the strength of a unitary government. Though normally the system of government is federal, the Constitution enables the federation to transform itself into a unitary State.

The President has been given the power of Emergency to tackle the unusual situations where the security of any part or whole of India is threatened, to maintain the sovereignty, unity, and integrity of the nation.