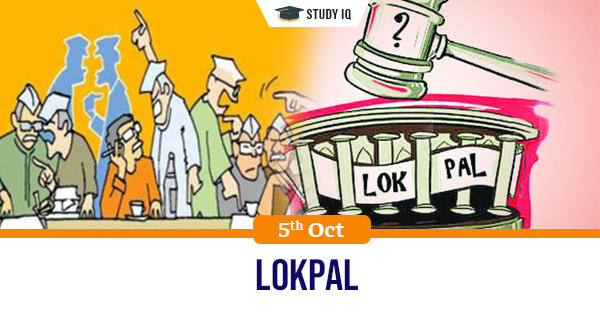 Lokpal
Date: 05 October 2019
Tags: Constitution
Issue
The anti-corruption ombudsman, Lokpal has disposed of 1,000 of the 1,065 complaints received till September 30 since its appointment in March 2019.
Background
The President had appointed the Lokpal chairperson and eight members on March 19 after recommendation by the Selection Committee, under the Lokpal and Lokayuktas Act . Justice (retired) Pinaki Chandra Ghose took charge as the first Lokpal chairman.
Details
Lokpal
The Lokpal is constituted under The Lokpal and Lokayuktas Act, passed in 2013 with amendments in parliament.

The Lokpal is responsible for enquiring into corruption charges at the national level while the Lokayukta performs the same function at the state level.
Ambit
The Lokpal has jurisdiction to inquire into corruption allegations against anyone who is, or has been, Prime Minister, or a Minister in the Central government, or an MP and Central government officials.

Chairpersons, members, functionaries and directors of any organisation set up under a law passed by Parliament, or wholly/partly funded by the Central or State government, are also covered. The registered bodies that receive foreign contribution above ?10 lakh also come under Lokpal.
Composition
Out of the maximum eight members, half will be judicial members.

Minimum fifty per cent of the Members will be from SC / ST / OBC / Minorities and women.

The judicial member of the Lokpal should be either a former Judge of the Supreme Court or a former Chief Justice of a High Court.

The non-judicial member should be an eminent person with impeccable integrity and outstanding ability, having special knowledge and expertise of minimum 25 years in the matters relating to anti-corruption policy, public administration, vigilance, finance including insurance and banking, law and management.
Terms
The term of office for Lokpal Chairman and Members is 5 years or till attaining age of 70 years.

The salary, allowances and other conditions of service of chairperson are equivalent to Chief Justice of India and members is equivalent to Judge of Supreme Court and charged upon Consolidated Fund of India.

If the chairperson dies in office or has resigned from the post, President can authorise the senior-most Member to act as the Chairperson until new chairperson is appointed.
Powers of Lokpal
The Lokpal will have the power of superintendence and direction over any investigation agency including CBI for cases referred to them by the ombudsman.

As per the Act, the Lokpal can summon or question any public servant if there exists a prima facie case against the person, even before an investigation agency (such as vigilance or CBI) has begun the probe.

An investigation must be completed within six months. However, the Lokpal or Lokayukta may allow extensions of six months at a time.