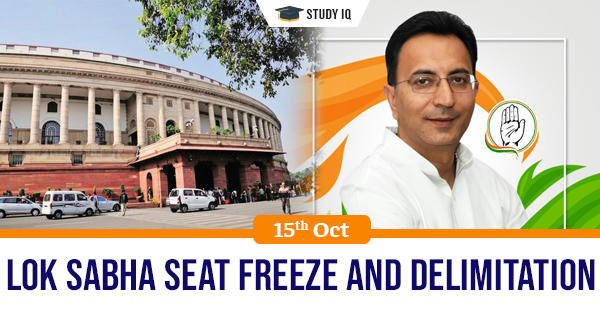 Lok Sabha seat freeze and delimitation
Date: 15 October 2019
Tags: Constitution
Issue
Former Union Minister and Congress leader Jitin Prasada had said that number of Lok Sabha seats should be rationalised on the basis of population and demanded that limits on the seat numbers must be lifted.
Background
It is argued that northern states are under- represented in Lok Sabha as their seats are not in proportion to their population. There has been a demand from those in these states to start a delimitation exercise.
Details
Article 81 of the Constitution defines the composition of the House of the People or Lok Sabha. It states that the House shall not consist of more than 550 elected members of whom not more than 20 will represent Union Territories.

Article 81 also mandates that the number of Lok Sabha seats allotted to a state would be such that the ratio between that number and the population of the state is, as far as possible, the same for all states. This is to ensure that every state is equally represented.

For the purpose of allocation of seats, population as ascertained at the last preceding census of which the relevant figures have been published must be considered.

Although unintended, this implied that states that took little interest in population control could end up with a greater number of seats in Parliament.

The southern states that promoted family planning faced the possibility of having their seats reduced. To protect their interests, the number of seats as well as delimitation exercise was freezed.

The lower House's composition has also changed with each Census up to 1971. A temporary freeze was imposed in 1976 on Delimitation until 2001.
Delimitation Commission
The Delimitation commission or Boundary commission of India is a commission established by the Government of India under the provisions of the Delimitation Commission Act.

The main task of the commission is redrawing the boundaries of the various assembly and Lok Sabha constituencies based on a recent census.

The Commission is a powerful and independent body whose orders cannot be challenged in any court of law. The orders are laid before the Lok Sabha and the respective State Legislative Assemblies. However, modifications are not permitted