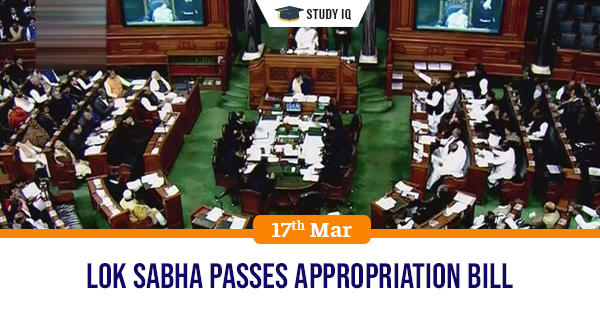 Lok sabha passes appropriation bill
Date: 17 March 2020
Tags: Constitution
Issue
The Lok Sabha passed the Appropriation Bill 2020-21, authorising the government to draw funds from the Consolidated Fund of India for its working as well as implementation of its programmes and schemes.
Details
The house passed the bill after the Speaker applied 'guillotine' on demands of grants for various ministries.

With parliament having very limited time for scrutinising the expenditure demands of all the ministries, after a pre-decided period of discussions over spending envisaged in the budget for some ministries is over, a guillotine is applied.

Once the speaker applies the guillotine, all the outstanding demands for grants, whether discussed or not, are put to vote at once. After this, appropriation bill is taken into consideration.
Government accounts
Consolidated Fund of India
This is the chief account of the Government of India. The inflow to this fund is by way of taxes like Income Tax, Central Excise, Customs and also non-tax revenues which arise to the government in connection with the conduct of its business.

Loans raised by issue of treasury bills are also received in this fund. The government meets all its expenditure including loan repayments from this fund.

No amount can be withdrawn from the fund without the authorisation from the Parliament. This fund is formed under the provision of Aricle 266 (1) of the Indian Constitution.
Contigency Fund of India
The Contingency Fund of India is set up in the nature of an imprest account under Article 267 (1) of the Constitution of India.

The corpus of this fund is Rs. 500 crores. Advances from the fund are made for the purposes of meeting unforeseen expenditure by the President of India.

The Secretary to the Government of India, Ministry of Finance, Department of Economic Affairs holds the fund on behalf of the President of India.
Public Account
The Public Account is constituted under Article 266 (2) of the Constitution. All other public moneys (other than those covered under Consolidated Fund of India) received by or on behalf of the Government of India are credited to the public account of India.

The receipts under Public Account do not constitute normal receipts of Government. Parliamentary authorization for payments from the Public Account is therefore not required.