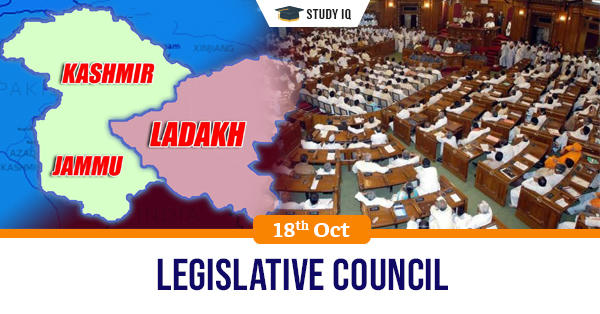 Legislative council
Date: 18 October 2019
Tags: Constitution
Issue
Jammu and Kashmir government issued formal orders for abolition of legislative council in the state after it was made a union territory.
Background
In early August, the central government revoked the special status granted to J&K and bifurcated the state into two Union territories of J&K and Ladakh. This resulted in re-organisation of J&K's political structure.

Details
The Legislative Council (Vidhan Parishad ) is the upper house in those states of India that have a bicameral legislature; the lower house being the State Legislative Assembly.

Its establishment is defined in Article 169 of the Constitution of India.

The membership of the Legislative Council is for 6 years and 1/3rd members retire every 2 years.

At present , seven states have Legislative Councils. These are Jammu and Kashmir(abolished), Bihar, Uttar Pradesh, Maharashtra, Karnataka, Andhra Pradesh and Telangana.
Membership of Legislative Council
About 1/3rd of members are elected by members of the Assembly.

1/3rd by electorates consisting of members of municipalities, district boards and other local authorities in the state.

1/12th by an electorate consisting of teachers.

1/12th by registered graduates.

The remaining members (1/6th) are nominated by the Governor from among those who have distinguished themselves in literature, science, art, the cooperative movement, and social service.
Importance
It acts as a check on hasty actions by the popularly elected House.

To ensure that individuals who might not be able to fight direct elections too are able to contribute to the legislative process.
Criticism
They are used to park leaders who have not been able to win an election.

They can be used to delay progressive legislation.

They would strain state finances.