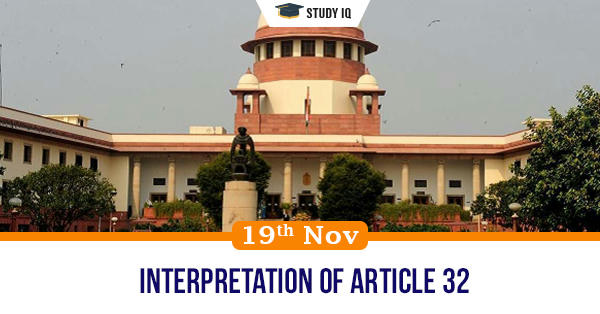 Interpretation of Article 32
Date: 19 November 2020
Tags: Constitution
Issue
A Supreme Court Bench headed by Chief Justice of India observed that it is "trying to discourage" individuals from filing petitions under Article 32 of the Constitution.
Background
The observation came during the hearing of a petition seeking the release of journalist, who was arrested with three others while on their way to Hathras, Uttar Pradesh.
Details
Article 32 deals with the 'Right to Constitutional Remedies', or affirms the right to move the Supreme Court by appropriate proceedings for the enforcement of the rights conferred in Part III of the Constitution.

It states that the Supreme Court "shall have power to issue directions or orders or writs, including writs in the nature of habeas corpus, mandamus, prohibition, quo warranto, and certiorari, whichever may be appropriate, for the enforcement of any of the rights conferred by this Part".

The right guaranteed by this Article "shall not be suspended except as otherwise provided for by this Constitution". It is a fundamental right.

The Article is included in Part III of the Constitution with other fundamental rights including to Equality, Freedom of Speech and Expression, Life and Personal Liberty, and Freedom of Religion.

Only if any of these fundamental rights is violated can a person can approach the Supreme Court directly under Article 32. The Article cannot be suspended except during the period of Emergency.
Writs under Article 32
Habeas corpus: Related to personal liberty in cases of illegal detentions and wrongful arrests

Mandamus: Directing public officials, governments, courts to perform a statutory duty;

Quo warranto: To show by what warrant is a person holding public office;

Prohibition: Directing judicial or quasi-judicial authorities to stop proceedings which it has no jurisdiction for;

Certiorari: Re-examination of an order given by judicial, quasi-judicial or administrative authorities.
Various observations
In Romesh Thappar vs State of Madras (1950), the Supreme Court observed that Article 32 provides a "guaranteed" remedy for the enforcement of fundamental rights.

During the Emergency, in Additional District Magistrate, Jabalpur vs S S Shukla (1976), the Supreme Court had said that the citizen loses his right to approach the court under Article 32.

Constitutional experts say that it is eventually at the discretion of the Supreme Court and each individual judge to decide whether an intervention is warranted in a case, which could also be heard by the High Court first.