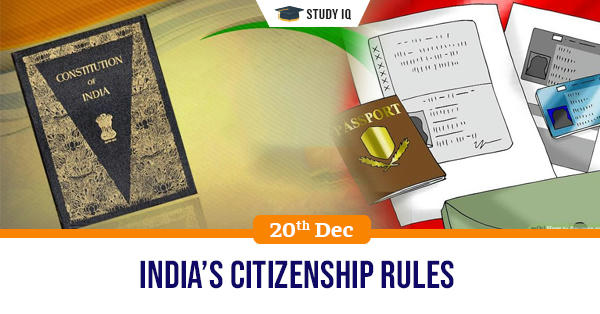 India's citizenship rules
Date: 20 December 2019
Tags: Constitution
Issue
As protests have been escalating due to amendment of citizenship rules, it is imperative to look at the existing citizenship provisions in our constitution.
Background
Citizenship constitutes the indispensable foundational principle of democratic polity. Citizenship provides rights such as right to vote, and are also subjected to duties or obligation, such as paying taxes. Citizenship is covered in Part II of the constitution, within articles 5-11.
Provisions
Article 5-8 conferred citizenship on each person who met the criteria below at the commencement of the Constitution :
Domiciled in India and born in India

domiciled not born in India but either of whose parents was born in India

domiciled, not born in India but ordinarily resident for more than five years

resident in India but migrated to Pakistan after 1 March 1947 and later returned to India on resettlement permit

resident in Pakistan but who migrated to India after 19 July 1948 or who came after that date but had resided for more than six months and got registered in prescribed manner

resident outside India but who or either of whose parents or grand parents were born in India
Indian Citizenship Act, 1955
The Citizenship Act, 1955 that came into force with effect from 30th December 1955 deals with matters relating to the acquisition, determination and termination of Indian citizenship.

It provides for the acquisition of Indian citizenship by birth, by descent, by registration and by naturalization .

The act has been amended by the Citizenship (Amendment) Act 1986, the Citizenship (Amendment) Act 1992, the Citizenship (Amendment) Act 2003, and the Citizenship (Amendment) Act, 2005.
The Original Act provided :
a person born in India after 26 January 1950 would, subject to certain exceptions be a citizen of India by Birth

anyone born outside India after 26 January 1950, subject to certain requirements, would be a citizen of India if his/her father was an Indian citizen at the time of his/her birth

under certain conditions, certain category of persons could acquire Indian citizenship by registration in prescribed manner

foreigners could acquire Indian citizenship on application for naturalization on certain conditions

if any territory became part of India, the Government of India could by order specify the persons who would become citizens of India as a result thereof

citizenship could be lost by termination, renunciation or deprivation on certain grounds

a citizen of commonwealth country would have the status of commonwealth citizen of India. Government could make suitable provisions on the basis of reciprocity.