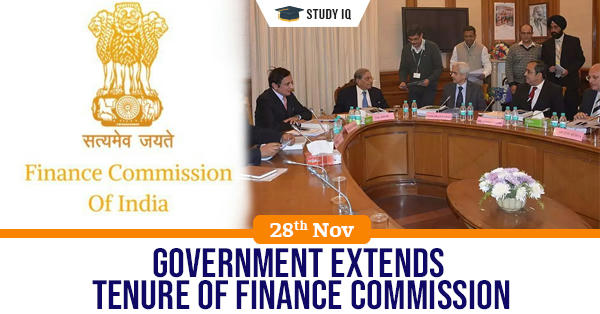 Government extends tenure of Finance commission
Date: 28 November 2019
Tags: Constitution
Issue
The Union cabinet extended the tenure of the 15th Finance Commission by a year to October 30, 2020. The term of the commission was originally set to end in October, but was first extended by a month to November 30.
Background
The extension was given on the grounds of the change in the stature of Jammu & Kashmir. Besides, there were delays on account of the model code of conduct of the elections.
Details
The commission is headed by former expenditure secretary and Planning Commission member N.K. Singh.

The cabinet decision means the Commission will recommend its award to six fiscal years, instead of the usual five.

Making a five-year coverage available for the commission beyond April 2021, will help both state and central governments design schemes with medium- to long-term financial perspective and provide adequate time for mid-course evaluation and correction.
Finance Commission
Article 280 of the Constitution states that the President shall constitute a Finance Commission at the expiration of every fifth year or at such earlier time as the President considers necessary. It is a constitutional body.
Functions
Distribution of net proceeds of taxes between Center and the States, to be divided as per their respective contributions to the taxes.

Determine factors governing Grants-in-Aid to the states and the magnitude of the same.

To make recommendations to the president as to the measures needed to augment the Fund of a State to supplement the resources of the panchayats and municipalities in the state on the basis of the recommendations made by the finance commission of the state.

Any other matter related to it by the president in the interest of sound finance.
Membership and criteria
As per the Constitution, the Commission is appointed every five years and consists of a chairman and four other members.

The Chairman of a finance commission is selected from people with experience of public affairs. The other four members are selected from people who:
Are, or have been, or are qualified, as judges of a high court,

Have knowledge of government finances or accounts, or

Have had experience in administration and financial expertise; or

Have special knowledge of economics
Powers
Has all powers of a civil court as per the Civil Procedure Code, 1908.

Can summon and enforce the attendance of any witness or ask any person to deliver information or produce a document, which it deems relevant.

Can ask for the production of any public record or document from any court or office.

Shall be deemed to be a civil court for purposes of Sections 480 and 482 of the Code of Criminal Procedure, 1898.
Disqualification of members
He is mentally unsound;

He is an undischarged insolvent;

He has been convicted of an immoral offence;

His financial and other interests are such that it hinders the smooth functioning of the commission.