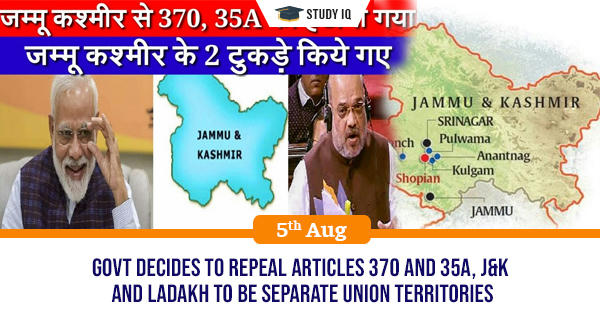 Govt Decides to Repeal Articles 370 and 35A, J&K and Ladakh to be Separate Union Territories
Date: 05 August 2019
Tags: Constitution
Context: In an announcement with massive repercussions for Jammu and Kashmir, Home ministry has announced in Rajya Sabha that the government has decided to repeal Article 370 of the Constitution which grants special status to J&K.
Highlights:
The government has also decided to bifurcate the state into two Union territories Jammu & Kashmir And Ladakh
J&K will have a legislature, and Ladakh, will be without a legislature.
These changes brought about by Presidential order.
Another crucial part of this presidential order is that it amended the term 'Constituent Assembly' to mean 'Legislative Assembly' of the state.
This amendment was essential since Article 370, in its sub-clause (3), has itself laid down that Article 370 can cease to operate by way of a presidential order but a recommendation of the 'Constituent Assembly' shall have to be placed before him.
Therefore, the order first gave authority of the Legislative Assembly to the Governor, and then changed the 'Constituent Assembly' to mean 'Legislative Assembly', which in turn means that the president could have issued the order upon a recommendation by the Governor.
About Article 370:
Article 370 gives Jammu & Kashmir its own constitution and decision-making rights for all matters barring defence, communications and foreign affairs.
The removal of this part of the constitution ends special status for Kashmir, which was key to its accession to India in 1947.

Article 370 made it necessary for the centre to get the state legislature's approval for introducing any policies or constitutional powers to the state

. This in turn means that the Governor, who is being treated as the 'State' govt at the moment, was able to move the resolution to the President.
About Article 35A:
Article 35A was introduced in 1954 by the then President Rajendra Prasad on the advice of the Nehru government (not by the Parliament).
Article 35A gives the J&K government the right to decide who qualifies as a 'permanent resident'.

The permanent resident is subject to some special rights.

Only permanent residents can acquire land, settle, and get government jobs, scholarships in the state.
The Article also says none of the above laws can be held as void on the ground that it takes away the rights conferred on other citizens of the country.