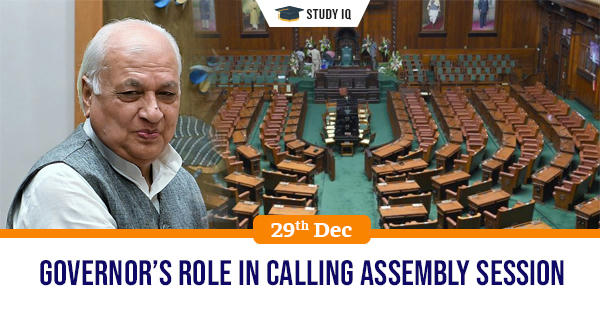 Governor's role in calling Assembly session
Date: 29 December 2020
Tags: Constitution
Issue
The Kerala Governor has turned down a request to summon a special sitting of the Assembly to debate the new three central farm laws.
Background
The issue raises questions on the role of a Governor and the powers he or she has under the Constitution.
Details
Article 174 of the Constitution says that "The Governor shall from time to time summon the House or each House of the Legislature of the State to meet at such time and place as he thinks fit".

The provision also puts on the Governor the responsibility of ensuring that the House is summoned at least once every six months.

According to Article 163, the Governor is required to act on the "aid and advice" of the Cabinet regarding the decision to summon the house.

There are a few instances where the Governor can summon the House despite the refusal of the Chief Minister who heads the Cabinet.

When the Chief Minister appears to have lost the majority and the legislative members of the House propose a no-confidence motion against the Chief Minister, then the Governor can decide on his or her own on summoning the House.

A number of rulings by the Supreme Court have settled the position that the Governor cannot refuse the request of a Cabinet that enjoys majority in the House unless it is patently unconstitutional.

Since the Governor's powers are limited with regard to summoning the House, there can be no legal ground to deny a request for summoning the session.
Discretionary powers of governor
When no party gets a clear majority, the governor has discretion to choose a candidate for chief minister who will put together a majority coalition as soon as possible.

He can impose president's rule.

He submits reports on his own to the president or on the direction of the president regarding the affairs of the state.

He can withhold his assent to a bill and send it to the president for his approval.

During emergency rule per Article 353, he can override the advice of the council of ministers if specifically permitted by the president.